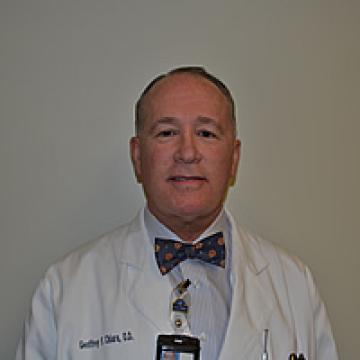 Geoffrey
F.
Chiara
,
OD, FAAO
SCCO
Chief, Optometry Service, VA Southern Nevada Healthcare System
Education
BS, University of Nevada, Reno
BS, SCCO
OD, SCCO
Residency in Hospital-Based Optometry, VA Medical Center, Tuscaloosa, AL
Biography
Dr. Chiara completed his undergraduate training in Health Science at the University of Nevada-Reno in 1982. He received another Bachelor of Science degree in Visual Science in 1984 and his Doctor of Optometry Degree in 1986, both from the Southern California College of Optometry. He completed a residency in Hospital Based Optometry in 1987 at the VA Medical Center in Tuscaloosa, Alabama affiliated with the University of Alabama at Birmingham/The Medical Center.
Dr. Chiara assumed the Chief Optometrist position at the then Veterans Administration Outpatient Clinic in Las Vegas in 1987, a position he has held to the present. At the now VA Southern Nevada Healthcare System (VASNHS), he also serves as Co-Chairman for the Executive Committee of the Medical Staff as well as the Professional Standards Board. He presently holds the rank of Assistant Professor at SCCO.
Dr. Chiara has authored several articles in ocular disease and clinical care in optometric journals as well as two book chapters in Optometric Pharmacology and Therapeutics. He has also served as a referee/reviewer for the Journal of the American Optometric Association. Dr. Chiara has been a Fellow of the American Academy of Optometry since 1988 and is a member of the National Association of VA Optometrists