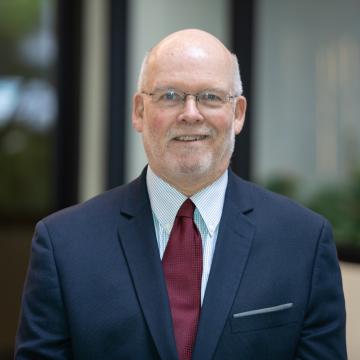 Timothy B. Edrington, OD, MS, FAAO
UECKH
Doctor of Optometry
Education
BS, Indiana University
OD, Indiana University
MS, California State University, Fullerton
Biography
Dr. Timothy B. Edrington is a Professor at the Southern California College of Optometry (SCCO) at Marshall B. Ketchum University (MBKU). Dr. Edrington received his Bachelors in Science and Doctor of Optometry degrees from Indiana University. He also earned a Masters of Science degree in higher education from California State University, Fullerton. Upon graduation from optometry college, Dr. Edrington served as an officer in the US Army and was stationed at Walter Reed Hospital in Washington, DC. He was also in private optometric practice in Illinois, Texas and California. A faculty member at SCCO since 1978, Dr. Edrington served for 18 years as the Chief of SCCO's Cornea and Contact Lens Service. He is currently the President of the Faculty Council.
Dr. Edrington is a Fellow of the American Academy of Optometry (AAO) and a Diplomate in their Cornea, Contact Lens, and Refractive Technologies Section. Dr. Edrington has authored more than 40 published manuscripts in peer-reviewed journals, over 70 additional published articles, over 100 published research abstracts, and 10 book chapters in the area of cornea and contact lenses. He co-authored a paper which received the American Academy of Optometry's Garland M. Clay award for the best manuscript published in Optometry and Vision Science in 1997.
Dr. Edrington served on the Executive Committee of the National Eye Institute funded, multi-center Collaborative Longitudinal Evaluation of Keratoconus (CLEK) Study. Dr. Edrington was the initial recipient of the Dr. Richard Hemenger Faculty Research award in 2001. Dr. Edrington also serves as a consultant to the Ophthalmic Devices Panel of the Center for Devices and Radiological Health of the United States Food and Drug Administration (FDA).