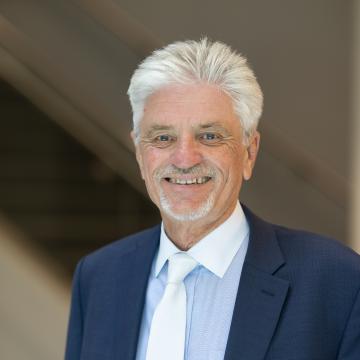 Wayne Heidle
UECKH
Director of Community Relations
Biography
After volunteering and speaking on behalf of MBKU for eleven years, Wayne Heidle joined the MBKU family in July, 2015 as the Director of Community Relations and Assistant Professor. His main focus is attending community outreach events and speaking on behalf of the university, the individual colleges, community programs and special events. Other duties include Curator of Art for the Sharing Visions Art Exhibit, management of the Kathryn T. McCarty Adaptive Technology Center and providing business-related support for the new Ketchum Health center in Anaheim.
Wayne retired as a construction executive in 2004 where he served in Executive Vice President roles for local and national corporations. During his career he spent many years as a volunteer where he served at St. Jude as President of the President's Cabinet, Vice President of Siglos and as a Memorial Foundation Board Member. Since retirement, he has served as President and Vice President of the Foundation Fighting Blindness, OC Chapter and Vice President of OC Guide Dogs. Wayne also volunteered in several teaching roles at Braille Institute of America and on the Program Committee for Blind Children's Learning Center.
For MBKU, Wayne served as Vice President of Foundation for the Preservation of Sight, Chairman of the Low Vision Council and is currently a member of the University Advancement Campaign Cabinet. He also serves on the 2015 Gala Steering Committee.
Throughout the years, Wayne has been honored with many awards, most recently the Humanitarian V-Award at the 2014 MBKU Gala and in that same year was chosen as an Orange County Register "Everyday Hero," honored at the OC Register Gala in February 2015.