OD/MS Student Research 
One of the most meaningful ways to participate in research as an optometry student at SCCO is to consider the combined OD/MS program. This program is designed to allow participants to pursue both their clinical training in the Doctor of Optometry program and receive a research education via a Master of Science in Vision Science degree. The master's degree training prepares students to embark on a career in teaching and/or research in the basic or clinical science of vision.
The need for new knowledge in the vision sciences is great, and teaching and research opportunities are numerous in a spectrum of academic, industrial and professional settings. Although the program provides a broad foundation of scientific knowledge of vision systems, it is at the same time appropriately flexible to allow candidates to develop expertise in areas of special interest. The master's degree includes both didactic coursework and the successful completion of an experimental thesis project. Find out more about our MS in Vision Science.
Research Electives
For students interested in research, but not pursuing a master's degree in Vision Science, SCCO offers elective options. Requirements include having and maintaining a 2.8 GPA for eligibility. Students interested in research studies typically discuss projects with faculty advisors, then embark on a limited or multi-quarter project. The advisor assists with project concept, development and grading. For students who achieve a passing grade, the credit will appear on your transcript as BVS 860, Research Elective. Learn more about SCCO's Faculty Research Interests.
Summer Research Opportunities
Between the first and second year at SCCO, students are encouraged to participate in one of many research opportunities. Summer fellowships and internships include:
The National Eye Institute T-35, Predoctoral Research Fellowship programs are offered by several colleges of optometry in the USA, such as UC Berkeley, The Ohio State University, The New England College of Optometry, The State University of New York College of Optometry in New York City and the University of Houston College of Optometry.
Summer internships at Johnson & Johnson at their headquarters in Florida or at Essilor, USA.
Several of our summer research participants have had posters accepted for presentation at scientific meetings, for example, at the American Academy of Optometry and the Association for Research in Vision and Ophthalmology (ARVO) annual meetings. 
Student Research Assistant Roles
Students can gain experience in research — and collect modest compensation — working on a research study with faculty. Often these opportunities are most prevalent during the summer periods, but can occur during the school year as well. Activities include chart searches, data collection with patients and data analysis. SCCO's faculty members are engaged in a broad range of Clinical Trials & Studies.
Student Research Stories
Amanda Beaudry's Research into Accommodative Infacility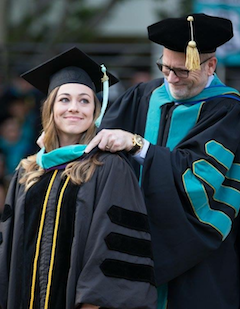 I chose to study accommodative infacility as my thesis topic, with a special interest in objectively measuring responses during accommodative rock lens training. My goal was to quantify the clinical results achieved when patients are undergoing accommodative therapy. This experience has taught me the importance of applying of evidence-based treatments to manage patients with amblyopia, strabismus and binocular vision problems to the highest degree that can be provided in our field. In the future, I would like to use this training in a private practice setting and continue binocular vision research as a PEDIG investigator. Most importantly, pursuing a master's degree in Vision Science has shown me the importance of asking meaningful questions, designing a well-thought out study and translating the results into more efficient and effective care for patients.
Tiffany Yanase's ARVO Conference Presentation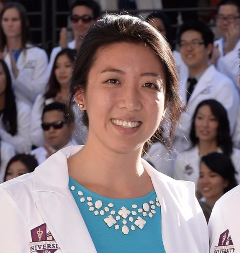 OD student, Tiffany Yanase, presented a poster based on her recent research paper, "Blue Light Reduces Eye Growth at High Temporal Frequencies But Only at High Contrast Levels." The purpose of her study, which was conducted using 12-day-old White Leghorn chicks, was to investigate the stability of blue light's protective effects on emmetropization when changing both temporal contrast and frequency. All chicks were exposed to experimental lighting conditions for eight hours on three consecutive days. Her research found that blue light's protective effect against temporal-frequency-induced myopia required a temporal contrast of 60% or greater.
Van Vu, SCCO 2018: Summer Internship at Johnson & Johnson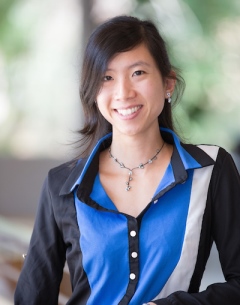 Working with a fortune 500 company was an eye opening experience. The internship with Johnson & Johnson Vision Care focused on Acuvue contact lens R&D. My role was primarily with the presbyopia platform, conducting research in product development, both independently and with guided assistance with team goals, test method development and drafting of clinical protocol, drafting of a clinical study report, interfacing with consulting companies, data collection and analysis on outside projects, and participating in meetings concerning the development of several upcoming Acuvue products. The program was flexible and encouraging of intern participation in volunteer events, allowing me to help provide vision screenings to approximately 60 patients from local homeless shelters as well as over 300 patients at the 2015 National Council of La Raza conference in Kansas City, Missouri. The friendships made and the projects I became a part of made my summer with J&J an unforgettable experience.
Christine Yoo, SCCO 2018: NEI (T-35) Pre-doctoral Research Fellowship at State University of New York, College of Optometry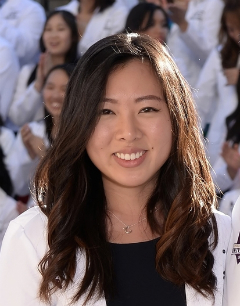 The highlight of my summer research experience at SUNY College of Optometry was being able to see first-hand what it is like to conduct clinical research. With the guidance of my mentor, Dr. Kathryn Richdale, and my co-investigator, Celia Gong, I explored how soft multifocal contact lenses used for myopia control affect children's accommodative and vergence systems. During the 10-week program, I took a course on research ethics and scientific integrity, attended weekly seminars and journal meetings, saw subjects, wrote a report and gave a presentation. My experience at SUNY showed me the importance of research in providing quality patient care and inspired me to also do research as a doctor in the future.
Esther Lin, SCCO 2018: NEI (T-35) Pre-doctoral Research Fellowship at State University of New York, College of Optometry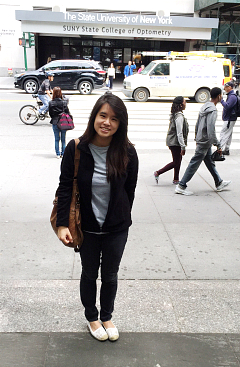 Pursuing the T-35 research opportunity in New York was enticing to me because the location provided a good balance of work and play during my last free summer. I cast a wide net on my application and ended up in the binocular vision and perceptual learning lab of Dr. Ben Backus. My own project proved to be a nice segue from our visual psychophysics course in our first year to the binocular vision and non-strabismus courses of our second year that I've taken since then. Specifically, I worked on running subjects using psychophysical setup to study the effect of slant on stereopsis perception. My principal investigator also had multiple ongoing projects, including an intriguing one called Project Luma that hopes to utilize light deprivation in the treatment of amblyopia. It was definitely a blessing to be able to dabble in so many areas of vision science. At SUNY, I was literally an elevator ride away from many important figures in vision science. The experience was incredibly humbling and inspiring, and, in retrospect, one that's opened up research as a promising route in my future.