The office of Kevin Alexander, OD, PhD, the Founding President of Marshall B. Ketchum University, overlooks the Fullerton campus that he has confidently led for the past 10 years.
Visitors to this office will notice a clear theme in the décor, most notably a wall of memorabilia that expresses Dr. Alexander's passion for the U.S. space program, including the original press credential — issued to him by NASA when he was just 18 years old — to photograph the launch of Apollo 11. And while Dr. Alexander's love for space exploration is technically ancillary to his vocation as optometrist and University President, it is not difficult to draw the obvious parallels between his founding stewardship of Marshall B. Ketchum University and the ambition, teamwork, attention to detail and courage that those early Apollo missions demanded. Directly behind Dr. Alexander's desk, affixed to the wall in raised lettering, is a quote from the poet Carl Sandburg: "Nothing happens unless first a dream." This too fits the theme, and is emblematic of not just Dr. Alexander's leadership, but of the mindset of aspiration that has governed his entire career.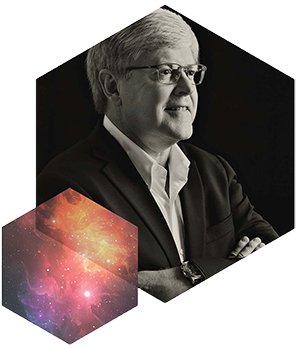 At the core of his calling, Dr. Alexander is an optometrist. "When I started, I really just wanted to go into practice and be an eye doctor in a town," he says. "I'm at heart a practitioner who happens to have a PhD, not the other way around." While in his last year of optometry school at The Ohio State University, Dr. Alexander was allowed to combine his studies with his first year  of a Master's program, which led him to realize that, while he still meant to open a practice, he was also fascinated by the science of the eye, and by the necessity for research, clinical studies and teaching. "I started teaching as a graduate assistant and I realized I just really enjoyed it. I like to explain stuff. I think that's what good doctors are; they're good at explaining their care to their patients." He went on to complete his PhD, and those studies, combined with his Master's program and his optometry degree, provided him with two things: a deep understanding of the basic science of the eye, and the nascent dream to help carry the profession of optometry further into the future, beyond basic refraction to treating eye disease. 
After teaching at OSU full time for two years, Dr. Alexander fulfilled his original ambition, opening a private practice and continuing his teaching — which he still relished — part time. As he built his career, he dreamed always of how to expand the field of optometry, eventually joining a group practice that performed medical optometry exclusively. He delivered countless lectures and talks on eye disease and pharmacology and developed protocols for the expanded treatment of eye pathologies. Around this time, Dr. Alexander also began advocating for the profession of optometry through the legislative process, serving with the Ohio Optometric Association and later, as President of the American Optometric Association.
Then Dr. Alexander's career took a new turn, when he accepted the position of Dean of the Michigan College of Optometry at Ferris State University. He embraced the transition, thinking he might even be able to still fit teaching and clinical practice into his schedule, but soon discovered that leading an optometry school was a demanding, full-time job. "I loved it," he says. "You're thinking strategically, putting out fires and managing resources to keep the program going. I caught the leadership bug." After a successful eight-year stint at Michigan College of Optometry, a new opportunity came calling — from Fullerton, Calif. 
It was no small decision to move across the country. Dr. Alexander's wife Carol, also an optometrist, had a very successful practice that he had planned on joining. However, the Southern California College of Optometry was searching for someone who was entrepreneurial, who could think outside the box and who could take the institution to the next level. In this opportunity, Dr. Alexander saw the seemingly providential alignment of all his experience and passion. "I really felt like my whole background — the teaching, the research, the clinical, the organizational, as well as my understanding of new team approaches to health care — prepared me to lead optometry education into the future, where we're not just selling eyeglasses anymore, but we are eye doctors." 
Dr. Alexander's first challenge arrived almost immediately. The 2008 recession hit hard, and the big dreams were put on hold. Through some belt-tightening and his careful leadership, the College got through that time, and from 2009-10 Dr. Alexander took the first steps to the "next level," conducting a futuring exercise to help the campus community discern exactly what the preferred future for SCCO would be. One of the strongest ideas to come out these exercises was that it was entirely within the realm of possibility to expand the scope of education delivered at the institution. "We decided that we were in the health care education business," says Dr. Alexander. "We could see the future of health care: that it was interprofessional, that it was team-based, that people needed to learn how to communicate with each other about patients." 
After careful deliberation, Dr. Alexander's team decided to add a new health care discipline to the College, and to establish a University. The very first PA studies program in all of Orange County was subsequently born, and became an immediate success story, graduating its first class in 2016. With two health care programs officially under the umbrella of a single institution, it became essential to find a name that could embody the identity of a University committed to collaborative health care education. And while the process was by no means easy, ultimately Dr. Alexander and his team arrived at a name close to home. "As we looked deeper into using the name of our founder, Marshall Bidwell Ketchum, we discovered that not only was he a physician and a lifelong proponent of optometry, but, before he was a physician, he was a pharmacist. So he was basically the quintessential interprofessional professional!" 
With a fitting new name and a growing reputation for high-quality education delivered in intimate class sizes, Dr. Alexander began dreaming big again. A college of pharmacy made perfect sense, particularly in the context of collaborative health care — since pharmacists work with almost every discipline. Dr. Alexander also knew that building a program from scratch afforded MBKU the opportunity to stay on the cutting edge, and he recruited administrative staff and faculty who shared his enthusiasm for such an opportunity. 
With the School of PA Studies and College of Pharmacy both well on their way to full accreditation, Dr. Alexander has turned his attention to crafting a physical campus that reflects the interprofessional values of MBKU. The acquisition of Ketchum Health in Anaheim Hills allowed for a separate state-of-the-art clinical facility while making space for renovations to the Fullerton campus that reaffirm the three disciplines learning together. 
Now Dr. Alexander looks to the future from a solid foundation, with the plan to allow space for the new programs, curricula, faculty and students to "breathe" after a period of such rapid expansion. "We're in a great place right now," he says. "We attracted faculty and deans, and I've been asked to speak about what we've done here. At the same time, our tagline is 'Reimagining the future of health care education,' and I can guarantee we have an eye on the future. As we look at what's next, we are asking 'What kinds of programs will work with what we have here?'" 
As Dr. Alexander sees the fruition of the many dreams he has had for the future of Marshall B. Ketchum University, he is particularly honored to have worked with so many faculty, staff and administrators who have dared to dream with him. "Of all the things I've done in my career, I'm most proud of this. I didn't do it alone! But as President, you're the one who pokes your head over the ridge and helps convince others that the goal, or getting to that place, is worthy of their time and effort and should be part of their sense of accomplishment. And I think we did it. We accomplished something amazing here. Creating this University was the hardest thing I've ever done. The possibility of failure was very real. But the reward is that now we have something that is quite unique. I'm pretty proud of that."
---
The full Winter 2018 issue is available online. Read Now