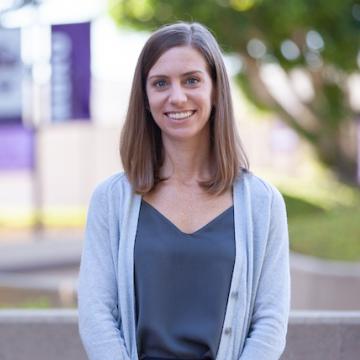 Erin Rueff, OD, PhD, FAAO
UECKH
Chief, Cornea and Contact Lens
Education
BS, Purdue University
OD, The Ohio State University College of Optometry
Fellowship, Cornea and Contact Lenses, The Ohio State University
PhD, Vision Science, The Ohio State University
Biography
Dr. Rueff received her Doctor of Optometry degree from The Ohio State University (OSU) College of Optometry after completing her undergraduate work at Purdue University. Upon graduation, she completed the Cornea and Contact Lens Advanced Practice Fellowship at OSU. After fellowship, Dr. Rueff continued at OSU as a clinical instructor while concurrently working toward and completing a PhD in Vision Science.  
Dr. Rueff's research has focused on defining the relationship between contact lens discomfort, accommodative disorders, and presbyopia. Her dissertation included an investigator-initiated, industry-sponsored clinical trial that investigated how multifocal contact lenses influence comfort in non-presbyopes. Her other research interests include contact lens compliance and effects of screen time on the ocular surface.
Dr. Rueff joined SCCO in 2018 as an assistant professor in the Cornea and Contact Lens Service. She enjoys teaching students in the clinic and classroom on contact lens and general optometry topics. Her clinical interests include multifocals, gas permeable and scleral contact lenses, keratoconus, and dry eye. Dr. Rueff is a Fellow of the American Academy of Optometry.