Residency in Cornea and Contact Lenses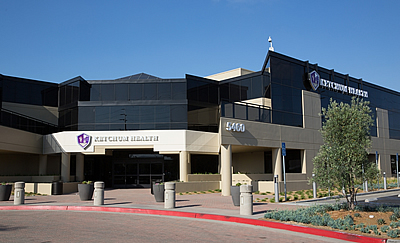 Established: 1991
Positions: Two
University Eye Center at Ketchum Health
Southern California College of Optometry (SCCO) at
Marshall B. Ketchum University (MBKU)
5460 E. La Palma Ave.
Anaheim, CA 92807
Program Faculty
Coordinator: Annie Chang, OD, FAAO
Attendings / Area of Special Interest:
Annie Chang, OD, FAAO / Irregular Corneas, Myopia Control
Elaine Chen, OD, FAAO / Irregular Corneas, Myopia Control, Dry Eyes
Tim Edrington, OD, MA, FAAO / Irregular Corneas
Dawn Lam, MS, OD, FAAO / Irregular Corneas, Myopia Control, Ocular Prosthetics
Eunice Myung Lee, OD, FAAO / Pediatric Contact Lens Care
Erin Rueff, OD, PhD, FAAO / Irregular Corneas, Orthokeratology, Dry Eyes, Refractive Surgery Co-Management
Barry Weissman, OD, PhD, FAAO
Katherine Zhang, OD, FAAO / Irregular Corneas, Myopia Control
Biographies for each of the Cornea and Contact Lens residency faculty may be found on-line at ketchum.edu/directory.
Mission Statement
The mission of the cornea and contact lens residency is to develop the resident's clinical expertise in specialty contact lens fitting and management, as well as the assessment and management of corneal disease using the full scope of optometric procedures and treatment options.
Program Description
Program Goals
To enhance the resident's clinical experience in cornea and contact lens patient care through fitting specialty contact lenses and designing contact lenses beyond the entry-level competency achieved at the completion of the optometry degree.
To expand the resident's skills, experience, knowledge base, and management of cornea and contact lens patients whose vision loss emanates from an anterior segment disease process.
To develop the resident's skills and proficiency in fitting and designing prosthetic lenses.
To develop the resident's skills and proficiency in examining and fitting pediatric patients with contact lenses.
To develop the resident's appreciation of scholarly activities and life-long learning.
To prepare the resident for clinical teaching, independent practice, clinical research, or a combination thereof, with emphasis on contact lenses and diagnosis and management of corneal and related contact lens problems.
To develop the resident's interactive communication skills and appreciation of effective co-management with other providers
Program Objectives
To enhance the resident's clinical proficiency and competency in the care of cornea and contact lens patients through management of a wide variety of cases.
The resident will examine and observe a large variety of patients with multiple refractive and corneal conditions at the UEC.
The resident will regularly examine patients who currently utilize a prosthetic device or who recently is in need of wearing a prosthetic device.
The resident will regularly examine pediatric patients who would benefit from wearing contact lenses for myopia control and medical indications.
The resident will read articles, attend continuing education courses, view webinars, create and present lectures, create and present posters, and author and co-author articles/manuscripts for publication.   
The resident will precept third and fourth year students providing patient care, facilitate group discussions in the contact lens seminar and grand rounds course, participate in continuing education lectures and workshops, and conduct and write-up original research or write-up a case series utilizing an extensive literature search. 
The residents will shadow corneal ophthalmologists performing surgery and patient care rounds at the University of California, Irvine, (UCI) Department of Ophthalmology at the Gavin Herbert Eye Institute. The residents will also shadow Dr. Gloria Chiu, a past resident, at the University of Southern California (USC) Roski Eye Institute.
Typical Weekly and Daily Schedule at the University Eye Center
The residency is 12 months in length, beginning July 1 and ending June 30. The residents are scheduled 26 to 30 hours per week of direct contact lens patient care. The residents receive weekly individual tutorial instruction with the cornea and contact lens residency coordinator. Patient cases are also reviewed at this time. In addition, the resident receives individual tutorial instruction from the members of the cornea and contact lens service faculty.
For one-half day a week during the Spring Quarter, the residents each independently staff SCCO/MBKU optometry students providing patient care at the UEC. Self-development time includes library time and preparing columns, poster presentations for the AAO and Global Specialty Lens Symposium meetings, research design, data collection and final paper preparation, developing lectures for CE courses and students, etc. The cornea and contact lens residents participate in UEC's afterhours doctor on-call rotation.
Type and Number of Patients
The residents provide care to patients with keratoconus and pellucid marginal degeneration and patients who have had radial keratotomy, LASIK and/or penetrating keratoplasties. They also provide care to patients requiring ocular prosthetic devices, pediatric patients requiring contact lens correction for aphakia or myopia control, and patients with dry eyes. Our recent residents have participated annually in over 700 patient visits at the University Eye Center at Ketchum Health.
Teaching Responsibilities
Residents will on occasion have third- or fourth-year professional students assigned to observe and assist them in the fitting and follow-up care of contact lens patients. It is expected that the residents will reinforce and validate the knowledge and clinical skills developed by sharing them with the students, thus enhancing the learning experience.
The residents directly supervise optometric interns in the UEC one half day per week during the latter part of the residency. The residents also actively participate as a discussion leader for the third-year students' cornea and contact lens seminar and grand rounds course.
Lecturing Opportunities
The residents are afforded opportunities to present lectures to the second, third, and fourth year students as part of the contact lens curriculum. Opportunities also exist to present continuing education courses at SCCO and at local optometric societies.
Scholarly Activities
Scholarly activity will include the following:
| | |
| --- | --- |
|   | Thesis Paper |
|   | Preparation and completion of a case series paper or original research project suitable for presentation and publication is a requirement of the program. |
|   | Scleral GP and Orthokeratology Lens Fitting Evenings |
|   | The residents conduct a fitting workshop for our third-year optometric students. |
Stipend
The residents will receive an annual stipend of $54,080 (not contingent upon productivity). No tuition or application fees are paid by the residents to the University.
Benefits
Health
The University offers the resident the option of electing to purchase medical insurance, as per the Affordable Care Act (ACA). Residents will receive information from Human Resources during a new hire orientation.
403(B) Voluntary Retirement Savings Plan
Residents have the opportunity to participate by contributing to the University 403(B) Voluntary Retirement Savings Plan.
Holidays
Resident are given approximately 13 days off during the Thanksgiving and Christmas holidays.
Educational Travel
An educational travel grant of $750 may be provided by the American Academy of
Optometry section on Cornea, Contact Lenses and Refractive Technologies, to attend the AAO Annual Meeting. Externally sponsored travel grants are available for the GPLI and Global Specialty Lens Symposium.
Paid Time Off
Residents will be provided 3 days of paid time off. Should the resident request additional days off, both the residency coordinator and the director of residency programs must approve it. Equivalent time is subject to be made up for time off beyond 3 days.
Liability Insurance Coverage
The residents will be provided with professional liability insurance while practicing at UEC.
Completion Requirements
Quarterly Encounter Activity Report
Quarterly Patient Diagnosis Log
Quarterly Faculty Evaluations
Quarterly Program Evaluations
Quarterly Resident Referral Log
Quarterly Resident Activity Log
Quarterly Resident Reading Log
End of the Year Evaluation of Program
Certification of Completion of Residency Requirements
Resident Contact Address after Completion
Be present for complete academic year from July 1 through June 30 except when on approved vacation, sick or authorized absence days.
Provide quality, compassionate, and ethical care to all UEC patients.
Prepare and complete a case series paper or original research project suitable for presentation and publication.
Prepare and present a lecture for SCCO at MBKU Residency Forum.
Reconcile any charges at the bookstore and return any borrowed library resources.
Application Prerequisites
Attainment of the OD degree from a school or college of optometry accredited by the Accreditation Council on Optometric Education (ACOE);
Successful completion of the National Board of Examiners in Optometry (NBEO) Part I and II;
Satisfactory fulfillment of all requirements to allow for California State optometric licensure; this includes successful completion of NBEO Part III and passing the California State Board of Optometry Law Exam;
Applicants must submit 3 letters of recommendation, two letters must be from full-time faculty members who have been most responsible for the clinical education of the applicant.
Selection Process
A personal interview is required;
Applicants must apply through the ORMatch Application Service, as well as to the Residency Coordinator;
On or before January 15 of the residency year, applicants should have on file with the Residency Coordinator:

A current curriculum vitae (CV);
A one-page letter of intent, discussing the reasons for pursuing residency training, in general, and this program, in particular; expectations from the residency experience; any interested areas of specialization; and, future professional goals;
Official transcripts of work completed in optometry school;
NBEO transcripts of completed sections;
Letters of recommendation from three faculty members closely acquainted with the applicant's clinical proficiency.

After receiving all the ORMatch applications to the program, each applicant is contacted via email or by phone whether he / she will be offered an interview.  Typically the top third of the applicant pool will be invited to an interview.
The Residency Coordinator, the Chief of the Cornea and Contact Lens Service and other available Cornea and Contact Lens faculty will conduct the on campus interview.
Each member of the interviewing team will complete the residency interview score sheet independently and state the residency candidates strengths and weakness.  When all the applicants have been interviewed and their subsequent score sheets are completed, the Residency Coordinator tallies all the submitted scores and ranks the applicants.  This is followed by an open discussion among the interviewers to ensure that the ranking of the applicants is acceptable by all.
The Residency Coordinator then submits the names of the residency candidates to ORMatch before the deadline date.
Program Accreditation
The Accreditation Council on Optometric Education (ACOE) continued the status of "accredited" for the program in 2015. The next currently scheduled site visit is November, 2023.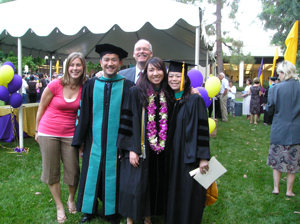 Contact Information
Annie Chang, OD, FAAO
Cornea and Contact Lens Residency Coordinator
Southern California College of Optometry at
Marshall B. Ketchum University
2575 Yorba Linda Blvd.
Fullerton, CA 92831
714.463.7588 • achang@ketchum.edu
Judy W.H. Tong, OD, FAAO
Assistant Dean of Residencies
Southern California College of Optometry at
Marshall B. Ketchum University
2575 Yorba Linda Blvd.
Fullerton, CA 92831-1699
714.463.7568 • Fax: 714.992.7811• jtong@ketchum.edu