Residency Programs
Chinle Service Unit IHS

Established: 2008
Positions: 2
Chinle Service Unit IHS
Chinle Comprehensive Health Care Facility
Indian Health Service
PO Box PH
Chinle, AZ 86503
Program Faculty
Residency Co-Cordinators:
Jonathan Lam, OD, FAAO
Joey Causey, OD
Adjunct Faculty:
ReBecca Sorenson, OD
Valerie L. Sharpe, OD, FAAO
Mission Statement
The mission of the Chinle Service Unit Optometry Residency Program is to provide qualified post-doctoral optometry graduates with an advanced educational experience focused on primary eye care and ocular disease management in a hospital-based setting.
The vision of the program is to foster an attitude of lifelong learning that will continue to guide residents beyond the completion of the program, cultivating patient centered clinicians that are capable of providing high quality and safe optometric services.
Residents will receive clinical and didactic training that will ensure the development of advanced competencies in eye, vision, and health care. Residents will be exposed to the Navajo culture in a fashion that facilitates the development of culturally safe, compassionate care.
Program Description
Program Goals
Enhance the resident's skills in primary eye care and ocular disease management.
Expand the resident's proficiency with specialized diagnostic instrumentation.
Strengthen the resident's ability to provide patient-centered care through patient education, communication, and shared decision making.
Provide advanced optometric clinical training in a hospital-based setting.
Expose the resident to contemporary methods of ongoing provider performance improvement, quality assurance, and peer review.
Foster the resident's ability to advance and master their knowledge base by analyzing the best current scientific information and assimilating this knowledge into evidence-based decision making.
Develop the knowledge and skills necessary to participate in the discourse of the global medical community through the presentation of clinical experiences and/or research.
Program Objectives
Provide the resident with an extensive primary care patient base.
The resident will develop skills in diagnosing, treating, and managing ocular disease through exposure to a variety of challenging and complex cases such as: anterior and posterior segment pathology, trauma, unusual refractive errors, and ocular related systemic disease. 
The resident will gain experience with pre- and post-operative care. 
The resident will develop skills in performing and interpreting retinal imaging with optical coherence tomography (OCT) and ophthalmic ultrasonography (B-scan).
The resident will develop skills in performing digital anterior segment and digital fundus photography.
The resident will develop skills in providing both direct and translation assisted patient education, communication, and shared decision making in a cross-cultural setting.
The resident will function within a multidisciplinary healthcare environment, providing high quality, coordinated care through effective communication and collaboration with other healthcare specialties (i.e. emergency medicine, pediatrics, internal medicine, radiology, public health nursing, behavioral health, etc.).
The resident will learn to efficiently utilize the broader support services afforded by a hospital-based practice setting.
The resident will develop an understanding of the roles and responsibilities of optometry and other providers in a multidisciplinary healthcare environment. 
The resident will learn to apply current methods of assessing provider performance to facilitate improvements in patient care through practice pattern modification and self-adjustment.
The resident will expand their knowledge base by developing and maintaining awareness of current standards of care and associated clinical and scientific literature. The resident will be expected to integrate and apply this knowledge into patient care through evidence-based clinical decision making.
The resident will develop the skills to prepare and deliver formal clinical presentations.
The resident will become familiar with the process of manuscript preparation. Pertinent deadlines will be enforced as mandated by SCCO.
The resident will develop understanding and experience of the responsibilities of an optometric educator. 
Typical Daily or Weekly Schedule in Clinic
Program Length: 12 months (Starting Mid-July to early August, ending around late July depending on Federal pay periods)
Hours:

Initially, regular business hours Monday to Friday. Later, a "flex schedule" may be approved which includes one weekday off during each two-week pay period (see example below).

Call Schedule:

For most of the year, the resident will be on-call one week per month (Wed evening to the following Wed morning. Weekdays 6:00 PM to 8:00 AM and Weekends 24 hours per day).

The program starts with an intensive 4-week block of buddy call with faculty.
After this initial period, an assigned attending will be available for in-person and/or phone consultation.
The resident will provide call services independently when deemed appropriate by faculty.

 
 

Week 1

 
 

Monday

Tuesday

Wednesday

Thursday

Friday

Patient Care (8:00-12:00)

Patient Care (8:00-12:00)

Patient Care (8:00-12:00)

Admin and Didactics

Patient Care (8:00-12:00)

 

 

Lunch (12:00-1:00)

 

 

Patient Care (1:00-5:00)

Patient Care (1:00-5:00)

Patient Care (1:00-5:00)

Patient Care (1:00-5:00)

Patient Care (1:00-5:00)

Didactic/Administrative Time (5:00-6:00)

 

 

 
 

Week 2

 
 

Monday

Tuesday

Wednesday

Thursday

Friday

Patient Care (8:00-12:00)

Patient Care (8:00-12:00)

Patient Care (8:00-12:00)

Admin and Didactics

Flex day

Lunch (12:00-1:00)

Patient Care (1:00-5:00)

Patient Care (1:00-5:00)

Patient Care (1:00-5:00)

Patient Care (1:00-5:00)

Didactic/Administrative Time (5:00-6:00)
Type and Number of Patients
Approximately 80% of the resident's time is spent in clinical care:

Direct patient care with technician support
Primary and secondary eye care services for management of anterior and posterior segment ocular disease
Outpatient, inpatient (adult and pediatric), and emergency department encounters
Minimum of 1,200 patient encounters
Prior residents have seen an average of ~2,000 patients per year

Patient demographics:

All ages from neonate to elderly
Across the spectrum of development
When available, the resident will provide services at the local nursing home and conduct school screenings.

Post-operative care provided for several sub-specialties of ophthalmology:

Cataract
Glaucoma
Retina
Cornea
Oculoplastic
Observations:
On-site: The resident will have the opportunity to observe on-site medical and optometry providers over the course of the program.

Optometry: low vision, minor procedures, and laser clinics.
Other Hospital Departments: emergency medicine, radiology, pediatrics, internal medicine/family practice, laboratory, native medicine, and pharmacy.
Rotating sub-specialties (pending availability): rheumatology, dermatology, neurology, cardiology, and other specialties are on-site periodically and may allow for observation.
Off-site Ophthalmology: there are no on-site ophthalmologists at the hospital. Clinical and surgical observations in Albuquerque and Phoenix will be scheduled during the course of the program.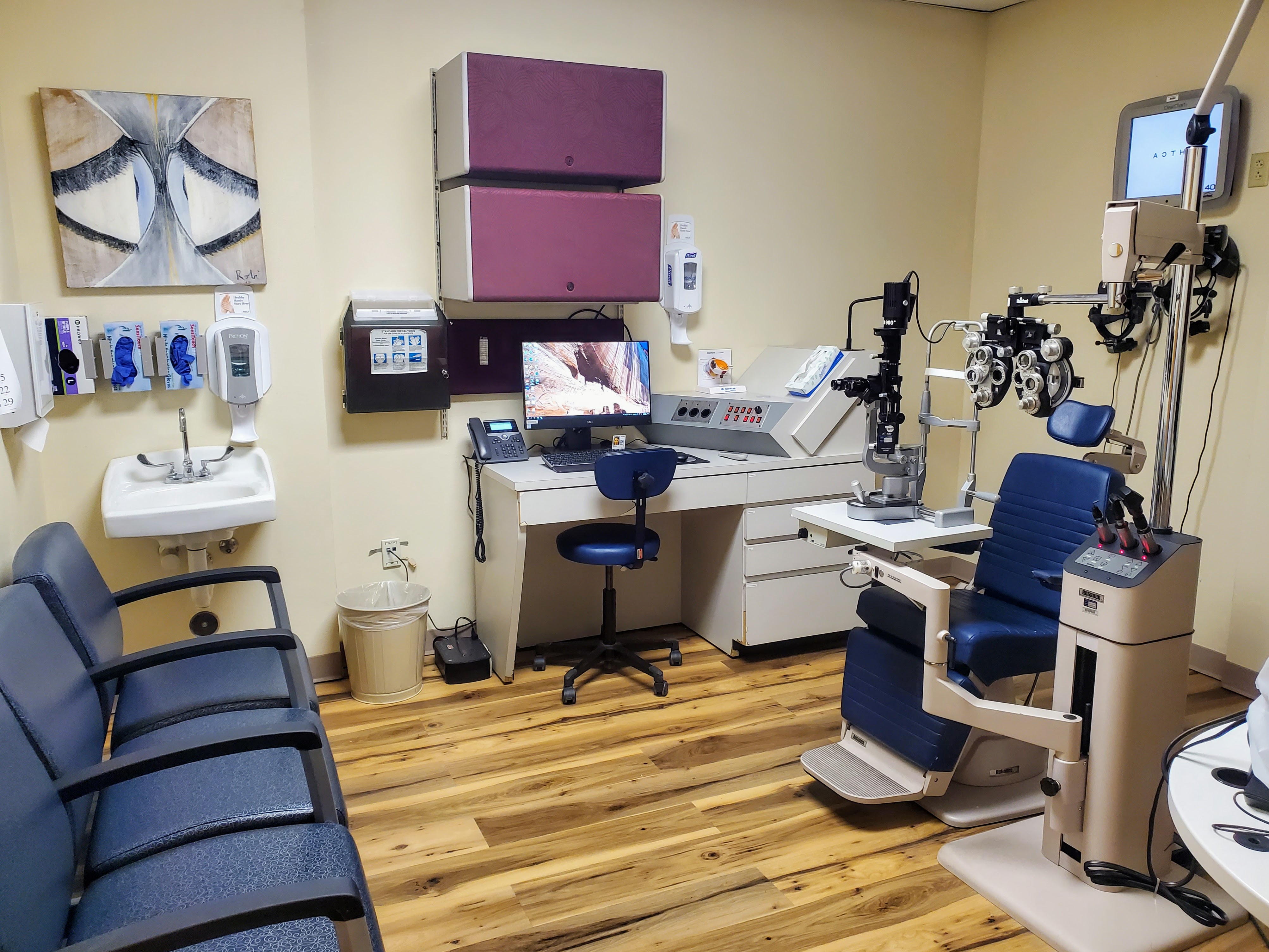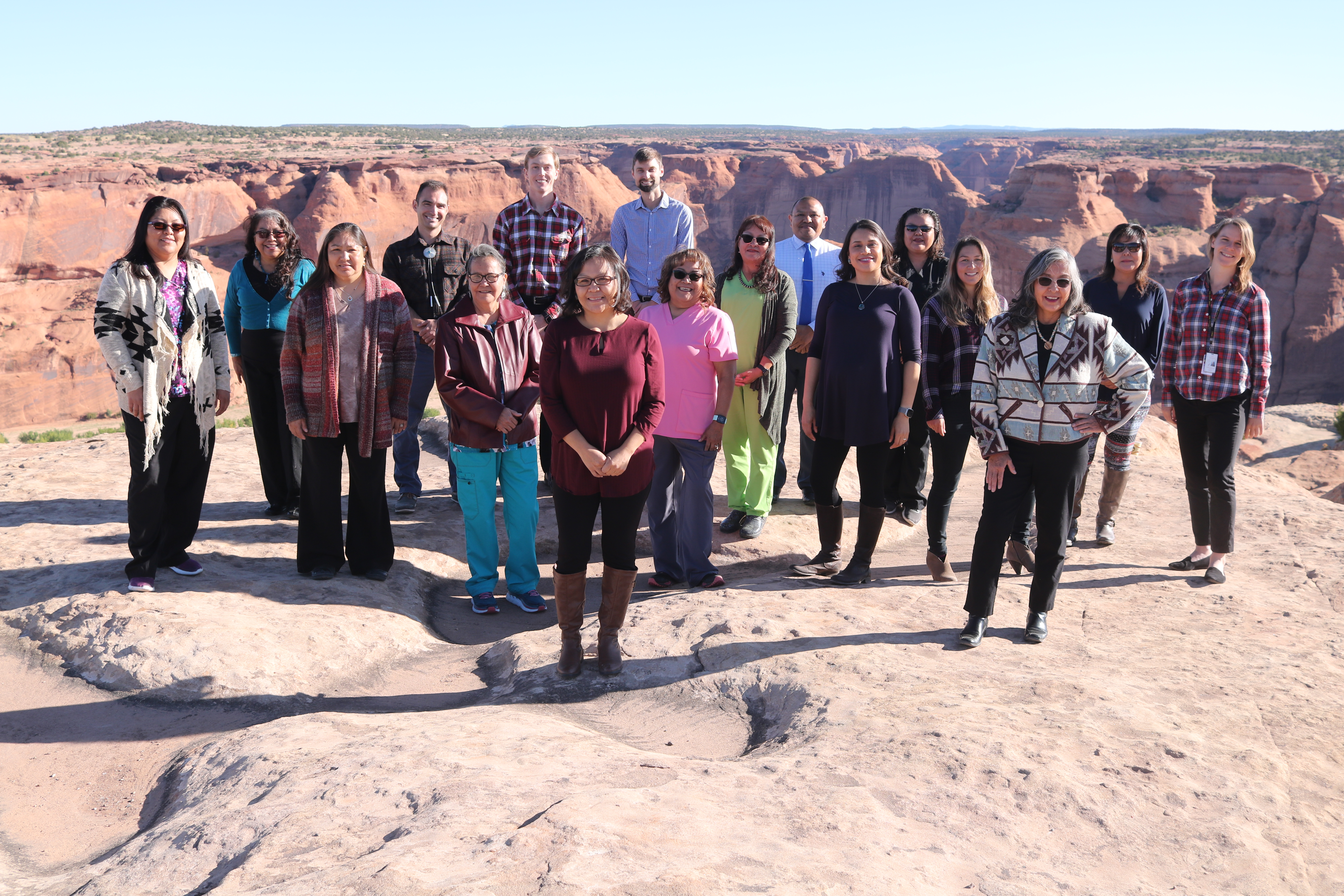 Teaching and Lecturing Opportunities
Teaching: instructing non-optometric trainees rotating at CSU (i.e. pharmacy, medical students; Armed Forces medics, medical residents, etc.). This will not be at the exclusion of an independent patient care schedule.
Lecturing: The resident will be required to present at least:

One (1) continuing education lecture to the CSU Medical Staff
One (1) continuing education lecture to CSU Optometry support staff
One (1) continuing education lecture at an optometry education meeting
Present at the IHS Resident's weekly Virtual Grand Rounds.
The resident is encouraged to pursue additional lecturing opportunities that interest them.
Scholarly Activities
Scholarly activities include, but are not limited to:
Resident Discussion Series:

Seminars primarily led by faculty on clinically relevant topics.
Example topics: ocular trauma, B-scan ultrasound, neuroimaging, patient-provider relationship, uveitis, minor surgical procedures, lasers, infectious keratitis, etc.

Resident Reading List:

A required reading list designed to supplement the Resident Discussion Series. The list is maintained and updated periodically by faculty in collaboration with the resident.

Journal Clubs:

Quarterly Indian Health Service Residents' Journal Club
CSU Optometry Journal Club

Inpatient Rounds:

Participation in at least 1 week of Medicine in-patient morning rounds

Continuing Medical Education

At least one (1) optometry education meeting (Attending additional conferences is strongly encouraged)
At least four (4) CSU Medical Staff lunch CME lectures

Thesis Paper:

Preparation of a manuscript of publishable quality.
Requirements for Residency Completion and Awarding of Certificate
The resident is required to keep a detailed log of all program activities, which will be reviewed by the SCCO Dean of Academic Affairs, the SCCO Director of Residencies, and the Residency Coordinator.
The resident is required to complete all basic components of the clinical, didactic, and scholarly activities as outlined in the Chinle Service Unit Optometry Residency curriculum. 
The resident is required to provide patient care services at a level deemed satisfactory to the Residency Coordinator and faculty, in line with the highest levels of current optometric standards of practice.
The resident is required to submit a paper based upon original research, literature review, and/or clinical case or cases suitable for publication in a peer reviewed optometric journal.
The resident is expected to deliver patient care services in a professional manner and to observe those proprieties of conduct and courtesy that are consistent with the rules and regulations governing SCCO and the IHS.
Upon evidence of satisfactory performance in meeting all requirements of the program, the resident will be awarded a Certificate of Completion by SCCO and a Certificate of Residency from the USPHS IHS.
Compensation and Benefits
| | |
| --- | --- |
| Stipend | $94,022 (2022 adjustment) at a Federal Civil Service GS11 Step 1 level, less any payroll deductions. Not contingent on productivity. |
| Health | Federal health insurance options. |
| Holidays | All (11) federal holidays |
| Pay Time Off and Sick Leave | 12 days of annual leave and 12 days of sick leave |
| Educational Travel | Time off to attend approved continuing education conference. |
| Liability | Malpractice coverage provided under the Federal Tort Claims Act. |
| Information Resources | Onsite Optometry department library. National Institute of Health Library access through the IHS. Remote access to MBKU library resources. |
| Housing | Arranged on the hospital compound. Rental costs for one- to three-bedroom apartments are typically $300 - $500 per month. |
Application Process and Eligibility
All applications are processed through the Optometry Residency Matching Service (ORMatch) in accordance with published guidelines. Application Deadline is January 31st of each year.
Prerequisites
Must be a citizen of the United States of America.
OD degree conferred by a school, college, or university of optometry accredited by the Accreditation Council on Optometric Education (ACOE) prior to the beginning of the program.
Must pass all parts of the NBEO examinations, including TMOD prior to ORMatch matching deadline.

 ISE and LSPE not required but encouraged if aligned with candidate interests.

Applicants must be eligible for licensure as an optometrist in a state, territory, or commonwealth of the United States, or in the District of Columbia.
Required Application Materials: (submitted via ORMatch)
Official transcripts for all optometric education
Official copies of NBEO scores
Letter of intent including a statement of goals applicant hopes to achieve during the residency program
Curriculum vitae (CV)
Minimum of three (3) letters of recommendation from faculty members and/or clinical preceptors
Site Visit and Interview:
An in person or virtual interview is required. Especially given the unique practice and living setting, in person interviews are strongly encouraged.
Site visits are typically one-half day (~4-5 hours) and are scheduled as a morning or afternoon session on select dates in January and February. Both sessions include an informal lunch with CSU staff optometrists at a local restaurant.
Selection Process
Candidates are ranked using a scoring matrix with the following categories and weights:
Academic Performance (GPA, NBEO score) - 33%
Letters of Recommendation and Special Qualities - 33%
Interview, Letter of Intent & Goals - 33%
All residency program applicants will be evaluated without regard to gender, race, color, creed, age, sexual orientation, national origin, or non-disqualifying physical disabilities.
Program Accreditation
Accredited by the ACOE.
Local Activities & Attractions
Chinle is located in the heart of the Navajo Indian reservation with abundant opportunities to experience a vibrant Native American culture.
Chinle is an outdoor enthusiast's paradise with unlimited access to hiking, camping, biking, climbing, skiing, snowboarding, and more.

Canyon de Chelley National Monument (only 5 minutes away)
Mesa Verde, Canyonlands & Arches National Parks (3 hours away)
Flagstaff, AZ & Mount Humphrey (3 hours away)
Moab, Utah (3 hours away)
Albuquerque (4 hours away)
Telluride & Durango Mountain resorts (4 hours away)
Grand Canyon National Park (4 hours away)
Contact Information
Joel Causey, OD / Jonathan Lam, OD, FAAO
Residency Coordinators
Chinle Comprehensive Health Care Facility
PO Drawer PH
Chinle, AZ 86503
928.674.7160 • Joel.Causey@ihs.gov • Jonathan.Lam@ihs.gov
Judy W.H. Tong, OD, FAAO
Assistant Dean of Residencies
Southern California College of Optometry at
Marshall B. Ketchum University
2575 Yorba Linda Blvd.
Fullerton, CA 92831-1699
714.449.7429 • Fax: 714.992.7811• Email: jtong@ketchum.edu