Residency Programs
Residency in Ocular Disease with an emphasis in Vision Rehabilitation
Southern Arizona VA Health Care System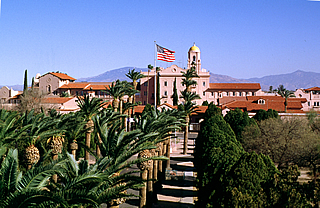 Established: 1995
Positions: Four
Southern Arizona VA Health Care System
3601 S. 6th Ave (11-112A)
Tucson, AZ  85723
Program Faculty
Coordinator
Danielle L. Weiler, OD, FAAO, Dipl. (CEC)
Attending Faculty
Amy L. Grimes, OD, FAAO
Huey-Fen Song, OD, FAAO
Alyon J. (Wasik) Marion, OD, FAAO
Carla B. Engelke, OD, FAAO
Amanda Mendez Roberts, OD, FAAO
Suzzane Li, OD, FAAO
Shaun G. Brennan, OD
Sara Hafeez, OD
Virtual Tour
For a virtual tour of the Southern Arizona VA Health Care System facilities, please click here.
Mission Statement
The fundamental mission of this training program is to have post-doctoral optometric practitioners attain the advanced competencies and specialty skills needed to effectively manage the eye, vision, and related health care needs of the population served by SAVAHCS.
Program Description
The residency is a one year post-graduate training program from July 1 - June 30.  Optometry residents provide patient care in two locations within the medical center campus. The eye clinic at SAVAHCS is shared jointly between optometry and ophthalmology, which provides the residents with the opportunity to manage a spectrum of ocular disease.  SAVAHCS hosts the Southwestern Blind Rehabilitation Center (SWBRC), which provides world class interdisciplinary vision rehabilitation to legally blind and visually impaired veterans.
Program Goals
Ensure that each resident develops advanced ocular disease management skills.
Ensure that each resident develops advanced management skills in the specialty of vision rehabilitation.
Educate each resident to optometry's role as a contributing member of each patient's health care team.
Educate each resident on his/her potential and the means to serve/advance the profession.
Instill in each resident an appreciation for the importance of ongoing professional development.
Program Objectives
1.1: Each resident will effectively manage patients that are representative of the population provided services in the Eye Clinic totaling at least 1200 patient encounters.
1.2: Each resident will serve as the Chief Resident with the responsibility to triage walk-in/urgent care cases and provide proper follow-up.
1.3: Each resident will demonstrate proficiency in advanced eye/vision care procedures as defined in the Resident Supervision Policy.
2.1: Each resident will become proficient in advanced vision rehabilitation.
2.2: Each resident will manage a spectrum of patients that are representative of the population provided services in the BRC totaling 80 unique patients
2.3: Each resident will observe the integration of low vision devices within blind rehabilitation disciplines.
3.1: Provide each resident an orientation at matriculation regarding optometry's role in the SAVAHCS health care team model.
3.2: Each resident has the opportunity to provide care in a multidisciplinary setting lending to communication with other clinical services (e.g., primary care, neurology, rheumatology, radiology, laboratory) as indicated by a patient's clinical presentation.
3.3: Each eye clinic resident will attend at least three medical educational presentations quarterly.
4.1: Each resident will be introduced to opportunities for involvement in state and national professional organizations including mentorship towards becoming a Fellow of the American Academy of Optometry (AAO).
4.2: Each resident will develop a clinical case report outline and abstract with the resident being encouraged to submit for AAO Residents Day or comparable venue.
4.3: Each resident will prepare a manuscript of publishable quality.
4.4: Each resident will prepare and present a continuing education lecture.
4.5: Each resident will be introduced to future career opportunities.
5.1: Each resident will be highly encouraged to attend one preferably national optometric conference.
5.2: Each resident will participate in weekly didactic activities including but not limited to journal club, case presentations, and chart review.
Typical Daily or Weekly Schedule in Clinic
Normal duty hours are 7:30am-4:00pm Monday through Friday (clinical patient care activities may conclude after 4:00pm on some days). There are no on-call, evening or weekend assignments. The program is 90% direct patient care and 10% didactic in nature. 
 
 
Monday
Tuesday
Wednesday
Thursday
Friday
AM
EYE CLINIC
R1/R2/R3
R1/R2/R3
R1/R2/R3
R1/R2/R3
R1/R2/R3/R4
SWBRC
R4
R4
R4
R4
 
PM
EYE CLINIC
R1, R2, R3
R1, R2, R3
R1, R2, R3
R1, R2, R3
R1/R2/R3/R4:
EDUCATION
SWBRC
R4
R4
R4
R4
**R1
EYE CLINIC CHIEF RESIDENT (optometry 1)
**R2
EYE CLINIC ASSISTANT CHIEF RESIDENT (optometry 2)
**R3
EYE CLINIC INTAKE RESIDENT (optometry 3)
**R4
SWBRC RESIDENT
Education - Friday Afternoons (all residents)
Medical Management Conference – 2nd & 4th Tuesday 12:00-1:00pm (Eye Clinic Residents: R1, R2, R3)
Resident Activities
Clinical Experience: Eye Clinic
3 months as Chief Resident, 3 months as Assistant Chief Resident, 3 months as Intake Resident
Schedule dependent upon rotation:

At least 12 scheduled patients per day (every half-hour)
Flexibility to schedule follow-up appointments

Serve as entry point for all eye care
Manage walk-in and urgent care cases
Large number of patients with diabetes, glaucoma and macular degeneration
Manage the majority of glaucoma patients and refer to ophthalmology for surgical intervention
Close interaction with ophthalmology residents and direct consultation with attending subspecialty ophthalmologist
Perform & interpret auxiliary testing
Prescribe wide array of topical and oral therapeutics
Order systemic work-up as indicated by patient presentation
Easily refer to other health disciplines
Clinical Experience:Vision Rehabilitation
SWBRC fosters a unique multidisciplinary team approach to comprehensive inpatient low vision rehabilitation

Resident examines all veterans the week of admission of the program

Evaluate ocular health
Perform low vision device evaluation
Make recommendations for training with low vision instructor

Resident is a member of the interdisciplinary team and interacts daily with blind rehabilitation team staff

Outpatient Low Vision Clinic: provides low vision care to visually impaired veterans in an outpatient setting
Traumatic Brain Injury Clinic: provides experience evaluating, diagnosing, and managing TBI-related vision disorders
Didactic Experience
Opportunity to precept optometry externs from SCCO/MBKU and OSU.

Time spent in this capacity is modest
Carried out under the supervision of program faculty

Weekly education meeting  on Friday afternoon

Ophthalmic Lecture Series
Journal Club
Case Presentations
Grand Rounds

Opportunity to attend Medicine-based Education Lectures twice a month
Highly encouraged to attend a national optometric meeting (AAO or AOA)
Scholarly Activities
Professional development time

On-site Medical Library
Online access to VA Library and SCCO M.B. Ketchum Library

Complete a paper of publishable quality
Develop submission for American Academy of Optometry's Residents Day

Poster or Paper presentation if accepted at AAO Annual Meeting

Develop and present a continuing education lecture in the spring
Completion Requirements
Completion and submission of all SCCO/MBKU required paperwork to the Residency Coordinator (Dr. Weiler) and SCCO/MBKU (Diana Dicdican/Dr. Tong):
- Quarterly Patient Encounter & Diagnosis Log (generated from VA electronic medical record system)
- Quarterly Faculty Evaluations
- Quarterly Program Evaluations
- Quarterly Resident Referral Log
- Quarterly Resident Activity Log
- Quarterly Resident Reading Log
- End of the Year Evaluation of Program
- Certification of Completion of Residency Requirements
- Resident Contact Address after Completion

Minimum number of patient encounters:
- 1200 total encounters in Eye Clinic
- 80 unique encounters in SWBRC (inpatient low vision, outpatient low vision and traumatic brain injury)

Be present for Resident Orientation.

Be present for the complete academic year from July 1 through June 30 for the entire tour of duty except on approved vacation, sick, or authorized absence days.

Provide quality, compassionate, ethical care to all veterans

Obtain state licensure

Serve a rotation as the Chief Eye Clinic Resident

Participate in the Optometry Education Meetings on Friday afternoons

Observe the integration of low vision devices within blind rehabilitation disciplines (orientation mobility, living skills, and manual skills)

Attend Medicine-based Education Lectures

Develop a clinical case report outline and abstract to understand the submission process of an academic meeting

Prepare a manuscript of publishable quality

Prepare and present a continuing education lecture (can be developed from #11)
Admission Prerequisites
OD degree from School or College of Optometry accredited by the Accreditation Council on Optometric Education (ACOE)
Passage of NBEO part I and II prior to ORMatch date
United States citizenship by congressional law
COVID-19 Vaccination
Application Process
ORMatch application by January 31

Letter of Intent
Curriculum Vitae
Unofficial Transcripts from Optometric Education
Three (3) Letters of Recommendation

Supplemental materials to Dr. Weiler

Unofficial Transcripts of NBEO scores

Interview, typically in person but occasionally via phone or videoconference, based upon quality of credentials and supporting documents
Selection Process
The residency coordinator and faculty members decide which candidates to rank for the match and determine the sequential ranking of those candidates based upon the application materials, interview, and letters of recommendation. Final candidate selections are reviewed by the Chief of Optometry and the approved list is submitted to ORMatch by the Residency Coordinator. ORMatch contacts the Residency Coordinator with the results of the match who informs the Residency Director at SCCO/MBKU of the results. Note: all residency applicants will be evaluated without regard to sex, sexual orientation, race, color, religion, creed, age, national origin, disability, marital status, or any other applicable legally protected status.
Stipend
$44,517 – as determined by VA central office, is not contingent upon productivity.
Benefits
| | |
| --- | --- |
| Health | The resident is offered health insurance options (premiums vary depending on selected coverage). |
| Holidays | There are 11 Federal holidays – New Year's Day, MLK Day, President's Day, Memorial Day, Juneteenth, July 4th, Labor Day, Columbus Day, Veterans Day, Thanksgiving, Christmas. |
| Leave | The resident accrues annual and sick leave. Additionally, the resident is provided authorized absence to attend one national meeting. |
| Liability | Professional liability is covered by the VA under the Federal Tort System. |
| Information Resources | There is a small library of books located within the eye clinic as well as a friendly-staffed library on the VA campus. Additionally, the resident has online access to the VA Medical Library and SCCO at MBKU M. B. Ketchum Library. |
VA Appointment
Optometry residents are appointed as temporary employees of the Department of Veterans Affairs. As such, they are subject to laws, policies, and guidelines posted for VA staff members.  There are infrequent times in which this guidance can change during a training year which may create new requirements or responsibilities.  If employment requirements change during the course of a training year, the residents will be notified of the change and impact as soon as possible.
The VA is a Drug-Free Workplace, which applies to any substance that may be legalized in some states but are not federally legalized. Optometry residents are subject to random drug testing.
Interested candidates are encouraged to visit the VA's Office of Academic Affiliations to ensure you meet all eligibility requirements to train at VA Facilities (https://www.va.gov/oaa/hpt-eligibility.asp).
Program Accreditation
The Accreditation Council on Optometric Education (ACOE) continued the status of "accredited" for the program in 2017. The next scheduled site visit is September 2026.
Housing
There is no housing provided.
Local Activities and Attractions
Population: 1 million, Arizona's second largest city, Hispanic & Native American influences
Year-round warm climate
Numerous top-rated resorts, spas and golf courses
Multiple outdoor activities: hiking and cycling 
Tucson International Airport: 7 carriers currently offering nonstop departures to 22 destinations
University of Arizona: 45,000 students
Attractions: Pima Air & Space Museum, Arizona-Sonora Desert Museum, Tucson Botanical Gardens, and Biosphere
Kitt Peak Observatory, Saguaro National Park, Broadway in Tuscon, Tuscon Symphony Orchestra, Arizona Opera at Tuscon Music Hall
Southern Arizona Attractions: Casa Grande Ruins, Tombstone, Chiricahua National Monument, Kartchner Caverns, Organ Pipe National Park
Contact Info
Danielle L. Weiler, OD, FAAO, Dipl. (CEC)
Residency Coordinator
3601 S. 6th Ave (11-112A)
Tucson, AZ 85723
520.792.1450 x 1-5419 • Fax: 520.629.4808 •  Danielle.Weiler@va.gov
Judy W.H. Tong, OD, FAAO
Assistant Dean of Residencies
Southern California College of Optometry at
Marshall B. Ketchum University
2575 Yorba Linda Blvd.
Fullerton, CA 92831-1699
714.463.7568 • Fax: 714.992.7871 • Email: jtong@ketchum.edu