Residency Programs
VA Long Beach Healthcare System (VALBHS)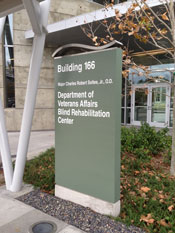 Established: 2012
Positions: Four
VA Long Beach Healthcare System – Major Charles Robert Soltes, Jr. Blind Rehabilitation Center
5901 East 7th Street
Long Beach, CA 90822
BRC Building 166, 2nd Floor, Room F271
Optometry Service (154)
844.808.2020
Program Faculty
Chief of Optometry: Sally Dang, OD
Residency Coordinator: Edward Chu, OD
Staff Doctors: Paula Matsuno, OD; Kevin Yuan, OD, Catherine Tran, OD; Suzanne Wickum, OD
Mission Statement
The Optometry Program at the VA Long Beach Healthcare System is a Primary Care/Low Vision residency dedicated to educating the residents through serving the veterans. The residents will be provided a unique and extensive educational experience that will encompass comprehensive primary eye care as well as specialty eye care to include advanced low vision/blind rehabilitation and traumatic/acquired brain injury. The resident will be engaged in a collaborative and integrated approach in the delivery of eye, vision and healthcare while maintaining the standards of integrity, commitment, advocacy, respect and excellence.
Program Description
Program Goals
To train the residents' skills in advanced competencies in primary eye care, low vision eye examination, traumatic brain injury cases.. Approximately 70% of the residency will be compromised of primary care exams, with 30% dedicated to Low Vision and TBI.
To engage the residents in didactic and scholarly activities to augment their clinical experience and expand their knowledge base.
To provide the resident the opportunity to teach through lecturing to optometry students and co-residents each month as well as Blind Rehabilitation Center (BRC) staff. Staffing/precepting opportunities will also be available to certain residents near the end of the residency year
To provide the resident the opportunity to participate and integrate as a team member in a multidisciplinary healthcare setting.
Program Objectives
Objective 1.1: To maintain and strengthen the resident's optometric skills and advanced competencies in performing comprehensive primary eye care examinations.
Objective 1.2: To provide the resident with extensive clinical experience in conducting comprehensive low vision eye examinations in an inpatient and outpatient VA setting.
Objective 1.3: To provide the resident the opportunity to evaluate and manage traumatic and/or acquired brain injury cases, utilizing advanced competency optometric skills.
Objective 2.1: To afford the residents numerous opportunities to attend didactic lectures at the VALBHS, locally, and nationally
Objective 2.2: The residents will be mentored in the preparation of paper, poster, and lecture presentations for the VALBHS, local, and national audience.
Objective 2.3: The residents will develop an understanding of keeping current with the latest evidence based publications and the application of the learned material to patient care and writing of the manuscript.
Objective 3.1: If resident achieves certain level of proficiency during year, resident will be given opportunity to precept 4th year optometry students.
Objective 3.2: Residents will present lectures to co-residents, staff, and externs regularly throughout the year during Wednesday educations.
Objective 4.1: The residents will play an integral part of the multidisciplinary team at the VALBHS.
Objective 4.2: The residents will develop an understanding of, and learn to utilize the support services that are available to them at the VALBHS.
Duration of Residency Program
The residency will be one year in length commencing on July 1st and ending June 30th.
Typical Daily or Weekly Schedule in Clinic
Clinic hours Monday through Friday 8:00 AM to 4:30 PM.
Clinical care will take place at the Long Beach VA and Santa Ana Community Based Outpatient Clinic (CBOC)
Clinic schedules are:

Outpatient Low Vision: Monday, Wednesday, Thursday, Friday (Santa Ana)
Outpatient Traumatic Brain Injury: Monday, Tuesday, Friday
Inpatient Low Vision: Monday through Friday (depending on admissions)
Inpatient Primary Care Monday through Thursday
Education (Journal Club, Grand Rounds): Wednesday PM
Facilities
VA Long Beach Healthcare System - The Major Charles Robert Soltes, Jr., O.D. Department of the VA Blind Rehabilitation Center (BRC)
The Long Beach VA will serve as the primary site for the residency. Optometry services are incorporated into the continuum of care in the BRC. At this location, primary care exams, Low Vision care, and TBI exams are provided on an inpatient and outpatient basis. In supporting the mission of consistently providing the highest quality of eye care to all patients, residents have access to four examination rooms for patient care, pre-testing / optical room, one special testing / imaging room, and a large conference room equipped with teleconferencing capabilities for inter-disciplinary meetings and presentations. Two exam lanes are designed for low vision, equipped with a large variety of low vision devices, in a wide range of powers. Being housed within the Blind Rehabilitation Center allows easy access to newer technologies and innovations with low vision, and rehabilitation, such as iPhone, iPad, and GPS. The other two exam lanes are generally for traumatic brain injury/ primary care and are equipped with new ophthalmic instruments and M&S acuity systems. The optical /dispensing room consists of ophthalmic frames, ophthalmic sunwear, and low vision filters. The special testing/ imaging room houses a Topcon fundus camera, Zeiss Cirrus-HD Optical Coherence Tomography (OCT), and Haag-Streit Octopus Visual Field. Residents are provided with office space and access to a personal computer. An internal email and instant messaging system allows for constant communication among faculty and residents. Faculty offices are in the same area as the residents and informal communication is encouraged.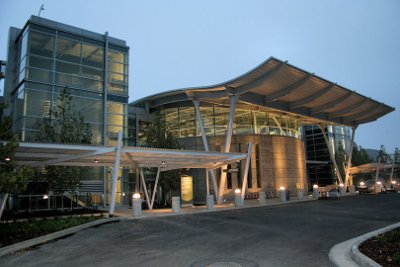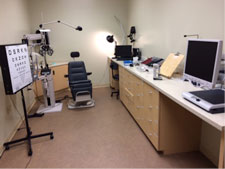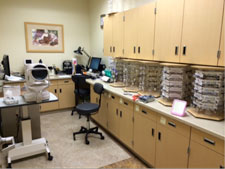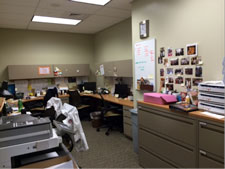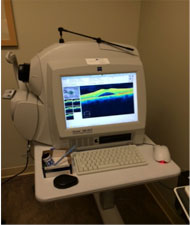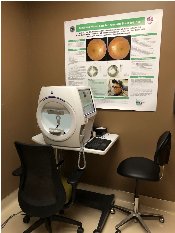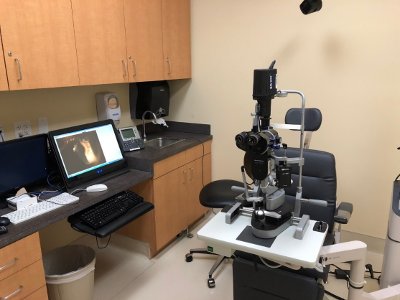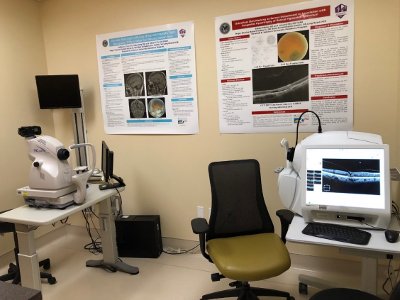 Santa Ana Community Based Outpatient Clinic
1506 Brookhollow Dr, Suite 118
Santa Ana, CA 92075
Residents will also spend significant time during the year at the Santa Ana CBOC which opened in May 2014. At this location, residents will mainly focus on primary eye care of patients, but will also be responsible for outpatient low vision, TBI exams and CL specialty fits. The clinic is fully equipped with Cirrus-HD OCT, anterior segment camera, fundus camera, and Humphrey Visual Field Analyzer 3. 
Rotation through other Services
The resident will primarily spend time seeing rehabilitative optometry patients in both low vision and traumatic brain injury. The opportunity to work with other disciplines in the Blind Rehabilitation Center will provide opportunities to observe rehabilitation in other disciplines, such as orientation & mobility, living skills, manual skills, and computer access technology.
Type and Number of Patients
VA Long Beach supports a wide age range of veterans. Each demographic is usually associated with its own clinical setting, such as younger veterans in TBI, middle-aged veterans in primary care, and the geriatric population in low vision. Approximately 75% of the resident's time will be spent in direct patient care; other activities include clinical preceptorship of 4th year optometric externs (5%), administrative duties, didactic (10%), and scholarly activities (10%). The resident will perform comprehensive primary care and rehabilitative examinations, and consult with various health professionals ranging from ophthalmologist, occupational therapist, blind rehabilitation specialists, and traumatic brain injury clinicians.
Teaching Responsibilities
If a resident is judged by the staff to have reached a certain level of proficiency, the resident will be given opportunity to precept 4th year optometry externs in primary care clinics during the final quarter of the residency program under the supervision of residency faculty..
Lecturing Opportunities
The residents will rotate presenting cases to each other and the 4th year externs on a regular basis during our Wednesday afternoon education. In addition, the residents are required to participate in year-end Residency Forum at the Southern California College of Optometry with residents from other Ketchum affiliated sites. 
Clinical Activities
Primary eye examinations
Low vision examinations
TBI examinations
Specialty contact lens fittings
Visual fields (Humphrey VFA 3, Octopus, tangent screen, etc…)
Fundus photography, OCT imaging/analysis, Anterior Segment Photos
Referral of patients for ophthalmological subspecialty care
Order consults (low vision devices, specialty low vision glasses)
Training of low vision devices (electronic, hand held devices and bioptics)
Observe blind rehabilitation specialties (Orientation Mobility, Living Skills, Visual Skills, Manual Skills, Computer Skills)
Reviewing and completing consultations from other disciplines
Referral of patients to other health disciplines
Ordering lab testing, prescribing oral and topical medication
Didactic and Scholarly Activities
Producing a manuscript of publishable quality by the end of the residency
Weekly journal club to review current literature on ocular disease management
Weekly grand rounds and case review
Case presentations to other residents, students, and doctors during Education
Presentation of case report at the Residency Forum at the Southern California College of Optometry
Attendance at low vision in-services by low vision product vendors and/or optometrists
Attendance at the AAO annual meeting (encouraged), submission of poster for resident's day (required)
VA Long Beach Healthcare System Optometry Resident Poster and Paper Presentations
Du, Annessa. "Bilateral Disc Edema in a Patient with Anti-Hypertensive Therapy Noncompliance: A Multidisciplinary Approach." American Academy of Optometry Meeting, Orlando, FL. October 2019.
Fernandez, Lauren. "The Challenges of Visual Rehabilitation in a Patient with Simultanagnosia and Neglect following Bilateral Occipital Stroke." American Academy of Optometry Meeting, Orlando, FL. October 2019
Priest, Lara. "Lamellar Holes: A complication in the Age of Anti-VEGF." American Academy of Optometry Meeting, Orlando, FL. October 2019.
Wen, Mimia. "Spectral-Domain Optical Coherence Tomography as Means of Detecting Glaucomatous Changes in Patients with Confounding Temporal Lob Encephalomalacia. American Academy of Optometry Meeting, Orlando, FL. October 2019
Chen, Andy. "Functional Vision Loss in Traumatic Brain Injuries". American Academy of Optometry Meeting, New Orleans, LA. October 2015.
Cruz, Emmeline. "Post-Trauma Vision Syndrome in the Combat Veteran." American Academy of Optometry Meeting, Chicago, IL. October 2017.
Cruz, Michelle. "Exudative Retinal Arterial Macroaneurysm w/ Macular Edema in Patient Symptomatic for Changes in Migrainous Aura. American Academy of Optometry Meeting, Anaheim, CA. November 2016.
Duran, P., Wong, M., "Rehabilitation in Recent Onset Leber's Hereditary Optic Neuropathy", American Academy of Optometry Annual Meeting, Phoenix, AZ, October 2012.
Fakhra, Sahba. "Subretinal Clef Masking as Serous Detachment in CHRPE." American Academy of Optometry Meeting, Anaheim, CA. November 2016.
Gillett, Katherine. "Therapeutic Micro Prism used to treat Visual Symptoms in mTBI patients". American Academy of Optometry Meeting, Seattle, WA.October 2013
Jan, Maggie. "Time Course Evaluation and Treatment of Post-TBI Brain Tumor w/ Corresponding Visual Field Loss. American Academy of Optometry Meeting, Seattle, WA. October 2013
Lin, Rachelle J. "Co-Management of Diplopic Patient w/ Graves Orbitopathy". American Academy of Optometry Meeting, Seattle, WA.October 2013
Lin, Rachelle J. "Determinants of Mesopic Visual Acuity". American Academy of Optometry Meeting, Seattle, WA. October 2013
Lin, Rachelle J. "Mesopic Visual Acuity and Repeatability and Recommendations for Testing Standardization". American Academy of Optometry Meeting, Seattle, WA. October 2013
Lin, Rachelle J. "Managing Diplopia of a TBI Patient with Cranial Nerve IV Palsy". SECO Annual Meeting, Atlanta,GA. March 2013.
Nakano, Greyson. "Hemodialysis and the Optic Nerve". American Academy of Optometry Meeting, Denver, CO. October 2014.
Nguyen, Angela. "Chorioretinitis Sclopetaria with Rupture of the Lateral Rectus due to Gunshot". American Academy of Optometry Meeting, New Orleans, LA. October 2015.
Parekh, Puja. "CRAO w/ Large Disc Hemorrhage". American Academy of Optometry Meeting, Denver, CO. October 2014.
Phan, Linh. "Chorioretinal Folds: Wrinkles that Warrant Investigation". American Academy of Optometry Meeting, Denver, CO. October 2014.
Phan, Mimi. "Treatment of Central Corneal Edema caused by Peripheral Spheroidal Degeneration". American Academy of Optometry Meeting, Seattle, WA. October 2013.
Tran, Catherine. "TBI with Loss of Eye and Traumatic Optic Neuropathy (TON) in Fellow Eye following Cannon Blast. American Academy of Optometry Meeting, New Orleans, LA. October 2015.
Tran, Michael. "A Case of an Unruptured Retinal Arterial Macroaneurysm in an Asymptomatic Veteran." American Academy of Optometry Meeting, Chicago, IL. October 2017
Vivirito, Mary D. "Management of Severe Photophobia Secondary to Chiari Malformation Decompression Surgery". American Academy of Optometry Meeting, Denver, CO. October 2014
Vivirito, Mary D. "Talc Retinopathy". Armed Forces Optometric Society Meeting, Denver, CO. October 2014
Wong, Jennifer. Peri-operative Ischemic Optic Neuropathy Following Cardiac Bypass Surgery. American Academy of Optometry Meeting, San Antonio. November 2018.
Yang, Angela. "Invasive Fungal Sinusitis Complicated by Diabetes Mellitus: When It's Not Just a Migraine." American Academy of Optometry Meeting, Chicago, IL. October 2017.
Young, Rachel. "Removable Visual Prosthetic for Patients with Moderate to Severe Visual Impairment." American Academy of Optometry Meeting, Anaheim, CA. November 2016.
Additional Employment Opportunities
Residents are expected to be at VA Long Beach Monday through Friday. This affords residents opportunities to moonlight or fill-in on weekends if desired.
Stipend
The annual stipend is established by the Office of Academic Affiliations, VA Central Office and is based on locality. It is currently set at $39,484 at our facility for the current academic year.
Benefits
| | |
| --- | --- |
| Health | Optional health insurance coverage is offered; biweekly premiums will be deducted. Long-term disability insurance is not provided. |
| Holidays | Each resident will have 10 paid Federal holidays during the residency year. |
| Educational Travel | "Authorized Absence" leave is granted for attendance at a professional continuing education conference such as the American Academy of Optometry or American Optometric Association annual meetings. |
| Vacation | Each resident accrues a yearly total of 13 days of annual leave and 13 days of sick leave. Unused annual leave is reimbursed after the conclusion of the year. |
| Liability | The VA provides malpractice coverage for VA-related patient care only. The resident must seek other malpractice insurance for any external clinical settings the resident chooses to participate in. |
| Continuing Education | The resident can attend SCCO sponsored continuing education courses at no cost on a space available basis. |
| Information Resources | Library resources are available to the resident through SCCO and the VA. |
| Life Insurance | Optional life insurance coverage through Federal Employees' Group Life Insurance is offered; biweekly premiums will be deducted. |
New Year's Day, January 1
Martin Luther King Jr.'s Birthday, 3rd Monday in January
President's Day, 3rd Monday in February
Memorial Day, last Monday in May
Independence Day, July 4
Labor Day, 1st Monday in September
Columbus Day, 2nd Monday in October
Veteran's Day, November 11
Thanksgiving Day, 4th Thursday in November
Christmas Day, December 25
Application Requirements
Note that all residency applicants will be evaluated without regard to sex, sexual orientation, race, color, creed, age, national origin, or non-disqualifying physical disabilities.
Applicant must have earned an OD degree, or will have earned such a degree by the time of graduation, from a school or college of optometry that is accredited by the Accreditation Council on Optometric Education
If the applicant is a citizen of a country other than the United States, that applicant will not be eligible for residency consideration.
Applicant must have taken and passed the TMOD and Basic and Clinical Sciences portions of the National Board of Examiners in Optometry, and furnish official copies of the results of this examination.
Applicant must apply through the Optometry Resident Match (ORMatch) and follow the application guidelines. The application deadline is January 15.
Personal Interview is required (In-Person preferred).
Applicants should send application matching materials to Optometry Resident Match (ORMatch)
Applications will be evaluated by the Long Beach VA Residency Admissions Committee who will rank candidates accordingly.
If accepted, the applicant must provide official NBEO and official transcripts of their optometric education and submit them to the Ass. Dean of Residencies at SCCO.
Required paperwork for residency applicants to be sent to ORMS Website effective application cycle for 2020-2021 residency year:
Curriculum Vitae (CV)
Letter of intent
Three (3) letters of recommendation preferably from instructors who are familiar with your clinical work.
Official optometry school transcripts up to the time of your application
Official NBEO transcripts
Selection Procedure
Potential applicants are required to submit their applications to the residency program via the ORMatch and should contact the Residency Coordinator, Dr. Edward Chu, via email expressing interest in the program and intent to apply. Candidates who qualify will be invited for an in-person interview at Long Beach VA where they will be given a tour of the clinic/hospital, meet the current residents, and speak with interview committee. 
In the individual interview, candidates will be asked questions that include, but are not limited to, what motivates them to pursue residency training, why they are interested in our specific program, what their career aspirations are, and how they will enhance our program. The candidate will also be asked their thoughts regarding the management of various primary care cases. Following the interview, the interview committee tabulates an overall score based on:
| | | |
| --- | --- | --- |
|   | Interview | 20% |
|   | GPA | 20% |
|   | NBEO scores | 10% |
|   | Letter of Intent | 10% |
|   | Letters of Recommendations | 20% |
|   | Special qualities/characteristics | 20% |
| | | |
| --- | --- | --- |
|   | Maturity |   |
|   | Professionalism |   |
|   | Communication skills |   |
|   | Attitude |   |
The candidate will be ranked based on the above merits; however, approximate weights are placed on each by the Residency Coordinator and interview committee. The ranking of all candidates is submitted to ORMatch for matching.
Requirements for Residency Completion and Awarding of Certificate
The resident is required to keep a detailed log and report the following: Patient Encounter and Diagnosis Log, Faculty Evaluation, Referral Log, Activity Log, Reading Log, and Final Evaluation of Residency Program. All of the submissions will be reviewed by the Asst. Dean of Residencies and the Residency Coordinator.
The resident is required to provide patient care services at a level deemed satisfactory to the Chief of Optometry / Residency Coordinator in line with the highest levels of current optometric standards of practice.
The resident is required to submit a paper based upon original research, literature review, and/or clinical case or cases suitable for publication in a peer reviewed optometric journal. Topic for the case report or research project is made by September 1st; the abstract of the case report or research project is due on November 1st; the 1st and 2nd draft of the paper is submitted by February 1st and April 1st respectively; and the final paper is due on June 1st.
The resident is expected to deliver patient care services in a professional manner and to observe those proprieties of conduct and courtesy that are consistent with the rules and regulations governing SCCO and the VALBHS.
At the conclusion of the residency program, the resident must go through an "out process" which includes turning in his or her VA badge, keys to the facility, clinic coats, and de-activated in the computer system.
Program Accreditation
Accredited by the ACOE until April 2021.
Housing
Long Beach VA is located in East Long Beach next to California State University Long Beach, and therefore there are many different housing options in the vicinity. The Santa Ana CBOC is located close to where the 405 South freeway and 55 freeway meet, a few miles from the South Coast Plaza Shopping mall. When deciding where to live, residents should keep morning traffic in mind and take note that clinic hours are 8:00 – 4:30 at both Santa Ana and Long Beach VA clinics.
Local Activities and Attractions
Long Beach is centrally located within the Los Angeles and Orange county area, making it convenient to drive to museums, shopping malls, and music venues. It is in close proximity to many of the famous beaches, and sporting events in Southern California. Long Beach is also a big port city in which many cruise lines depart from.
Some of the bigger attractions are listed below:
Disneyland
Universal Studios
Knott's Berry Farm
Hollywood
Catalina Island
Joshua Tree National Park
Six Flags Magic Mountain
Temecula Vineyards
Las Vegas
San Diego
Big Bear Lake
Current Residents
Shelby Cusick, OD
OD, MBKU SCCO
Shelby.Cusick@va.gov
Annessa Du, OD
OD, Berkeley Optometry
Annessa.Du2@va.gov
Lauren Fernandez, OD
OD, MBKU SCCO
Lauren.Fernandez@va.gov
Lara Priest, OD
OD, MBKU SCCO
Lara.Priest@va.gov
Mimia Wen, OD
OD, Berkeley Optometry
Mimia.Wen@va.gov
Contact Information
Edward Chu, OD
Staff Optometrist/ Residency Coordinator
VA Long Beach Healthcare System
Mjr Charles Robert Soltes, Jr. Blind Rehabilitation Center
5901 East 7th Street
Long Beach, CA 90822
844-808-2020
Edward.Chu@va.gov
Sally H. Dang, OD
Chief of Optometry 
VA Long Beach Healthcare System
Mjr Charles Robert Soltes, Jr. Blind Rehabilitation Center
5901 East 7th Street
Long Beach, CA 90822
844-808-2020
Sally.Dang@va.gov
Judy W.H. Tong, OD
Assistant Dean of Residencies
Southern California College of Optometry at
Marshall B. Ketchum University
2575 Yorba Linda Blvd.
Fullerton, CA 92831-1699
714.449.7429 • Fax: 714.992.7811
jtong@ketchum.edu