RESIDENCY IN OCULAR DISEASE / LOW VISION REHABILITATION
Veterans Affairs Los Angeles Ambulatory Care Center
(VALAACC), Los Angeles, California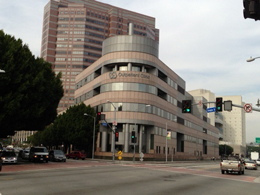 Established: 1979
Positions: One
Program Faculty
Coordinator: Diana Wu, OD
Attendings:
Chief of Optometry: Chang Kim, OD
A Cooperative Program between the Southern California College of Optometry (SCCO) and the VA Los Angeles Ambulatory Care Center (VALAACC).
Mission Statement
The Southern California College of Optometry at Marshall B. Ketchum University (SCCO at MBKU) and the Department of Veteran Affairs Greater Los Angeles Healthcare System (VAGLAHS) in their dedication to the advancement of clinical optometric education, have jointly developed a one-year residency program in Ocular Disease and Low Vision Rehabilitation  The fundamental mission of this training program is to provide qualified post-doctoral optometric practitioners with an outstandingly rich education and advanced clinical experience in the area of Ocular Disease and Low Vision Rehabilitation and to nurture their development into exceptionally competent, caring and compassionate optometric practitioners / educators.



Goals
To expand the residents technical skills, knowledge base, and decision making in primary care, ocular disease, and ocular manifestation of systemic disease detection, diagnosis, management respectively.

To train the resident in developing advanced clinical skills (specialized evaluation, treatment, and management) in low vision rehabilitative care for the partially sighted.

To promote the resident in recognizing and appreciating the importance of participating as a member of a coordinated multidisciplinary healthcare team.

To develop the resident's ability to present ophthalmic information to health care professionals and to the public sector.

To foster in the resident an appreciation for scholarly activities and life long learning
Program Objectives
Provide the resident with an extensive primary care and ocular disease patient base.
Provide the resident with a variety of diverse, challenging, and complex cases.
Provide the resident with experiences in numerous low vision evaluations.
Provide the resident the opportunity to utilize advanced low vision devices / technology.
The resident will consult with other providers when necessary to collaborate on patient cases.
The resident will receive and send referrals from other disciplines.
The resident will effectively correspond with other providers in person or via consults / summary notes.
The resident will prepare and deliver lecture presentations and/or clinical information to health care professionals (4th year students at SCCO at MBKU, faculty, outside ODs), and the lay public.
The resident will attend and actively participate in Grand Rounds and case discussions.
The resident is strongly encouraged to attend the annual meeting of the American Academy of Optometry, and/or other major regional optometry meetings.
The resident will prepare a publishable quality manuscript, case report, or poster suitable for publication in a peer- reviewed journal and/or presentation at the American Academy of Optometry annual meeting or other major conference presentations.
Resident Activities
Activities the resident will perform at the VA Los Angeles Ambulatory Care Center (VA LAACC) to accomplish the objectives in part will include:

The resident will examine large variety of patients with subnormal vision and evaluate their need for various low vision devices, which will aid in enhancing patients' daily living skills.
The resident will examine and observe large variety of patients with varying degree of vision loss attributable to different systemic and ocular etiologies.
Resident acts as liaison with VA Vision Impairment Service Team (VIST) coordinator through weekly meetings to discuss the outcome of the patient evaluation, recommended treatment plans and enrollment of patient in appropriate social and educational programs.
The resident is encouraged to consult and interact freely with the chief of optometric service as well as attending ophthalmologists to enhance the learning environment. The resident also participates in the Optometric Grand Rounds Workshops presented at the Sepulveda and West Los Angeles VA Medical Centers.
Provide clinical instruction to fourth year SCCO students in rehabilitative optometry, under the supervision of licensed faculty members.
Resident will formulate and lead weekly case and topic discussion for optometry students assigned to LAACC.
The resident will develop an original research project or submit a case report manuscript of publishable quality.
Resident will gain working knowledge of medical primary care service provided at VA LAACC by being assigned to work with primary care attending (MD) one half day a week during 3rd quarter of the residency program.  There is a plan to expand this extended multi-disciplinary medical experience with dermatology, ENT and neurology to be added to 4th quarter of residency program.

In addition, the objective will be achieved in part by the resident performing the following activities relating to the College:

Providing instruction in vision rehabilitation to SCCO fourth year students at the Optometric Center of Los Angeles, under supervision of licensed faculty members.
Participate in the Residency Forum presentation to 4th year SCCO students, which is held at the College.
Prepare patient logs and quarterly evaluations for the Director of External Programs and the LAACC Chief of the Optometry Clinic, reviewing the resident's activities toward accomplishing the programs stated objectives.
Eye Clinic Facility
VA LAACC Eye Clinic is located on the 3rd  floor of the clinic.  While optometry and ophthalmology work side by side, optometry maintains its professional autonomy and is administratively independent of ophthalmology. The Eye Clinic equipment and arrangement includes the following:
Five Optometric examination lanes
Four Ophthalmologic examination lanes
Low Vision exam lane/LV Optometrist's office
Three visual field instruments (2 HFA 750i,  1 Goldmann perimeter) shared among optometry and ophthalmology
A/B ultrasound
Zeiss IOLMaster
Pachymeter
Topcon digital fundus imaging system
Zeiss corneal topographer
Heidelberg Spectralis OCT
Zeiss/Lumenis Argon Laser
Type and Number of Patients
The program emphasizes low vision rehabilitation and ocular & systemic disease management, and interdisciplinary health care. Our patients tend to have multiple complex, inter-related health problems; it is quite common to see the ophthalmic manifestations of systemic diseases and ocular toxicity from long-term systemic medications.
Our patients often have common chronic illnesses such as hypertension, diabetes, atherosclerosis, and COPD.  There are many patients with a history of drug & alcohol abuse, stroke, PTSD, neoplasia, seizure disorder, dementia, multiple sclerosis, etc.
We have full therapeutic drug prescribing, laboratory, and radiology clinical privileges. As part of an inter-disciplinary healthcare team, we often receive consultations from other clinics and we often discover systemic problems which require consultation to other specialties. We have good working relationships with several other disciplines.
Resident is required to have a minimum total of 600 patient encounters to earn the residency certificate. The number of patient encounters per day varies depending on the day's scheduled activities, including number of low vision examinations which typically are more time consuming, but resident may typically see between 8-10 patients per day.
Length of Residency
The residency will be one calendar year in length, beginning July 1 continuous through June 30.
Stipend
For 2023-2024, the optometry resident is paid an annual stipend of $50,505.  The stipend is determined by VA Central Office and is subject to review once every two years.  Any changes mandated by VACO will be implemented by the WLAVA.  Paychecks are deposited via Direct Deposit biweekly.
Benefits
Health
Health insurance is available.
Holidays
All federal holidays are observed by the Eyecare Center (Martin Luther King, Jr's birthday, Presidents' Day, Memorial Day, Juneteenth Day, Independence Day, Labor Day, Columbus Day, Veterans' Day, Thanksgiving Day, Christmas Day, New Year's Day).
Educational Travel
"Authorized absence" is granted for attendance at the American Academy of Optometry meeting in October or equivalent national professional meeting. A travel stipend is provided by SCCO from monies generated by attendance at the Grand Rounds Clinical Education program by private practitioners.
Vacation
Residents accrue 4 hours of "annual leave" (vacation) and 4 hours of sick leave per 2-week pay period. Annual leave must be taken at times that it would not interfere with patient care or educational activities. No vacation leave is granted during the last 2 weeks of the program in June.
Liability
Liability coverage is provided for care of veterans and nonveteran employees referred by Administrative Medicine for eyecare.  Liability coverage does not include care provided through "moonlighting."
Continuing Education
Residents earn over 120 continuing education credit for attendance at Optometry Clinical Seminars.
Information Resources
The VA has numerous ophthalmic, primary care, and healthcare specialty online journal and  textbook subscriptions.
The VA has a medical library that can obtain print copies of articles by request.
The SCCO Library provides a journal service to residents:  it provides up to 5 articles per month per resident on request.  Remote access to journals is also available.
Local university libraries are open to the public.
Prerequisites
One must have received an O.D. degree from an accredited school or college of optometry accredited by Accreditation Council on Optometric Education by the time the program begins on July 1.
One must pass Parts I and II of the NBEO and the TMOD prior to the ORMATCH matching deadline (usually the first Friday in March each year)
NBEO III and state licensure (in any state, not necessarily California) must be passed prior to or during the residency year.
U.S. citizenship is required. Immigrants must provide proof of US Citizenship prior to the application deadline in February.
An interview prior to the ORMATCH application deadline is required. In-person interviews are currently on-hold due to the pandemic, Zoom interviews are an alternate option.
Computer skills are critical for daily activities in our setting (medication prescriptions, progress notes, laboratory & radiology requests, consults, etc., are entered by computer into electronic records).
Experience at a VA facility is quite helpful but not required for application.
Application Process
Applicant must apply through the OR Match and follow the application guidelines. The deadline for application submission is January 31. The following materials should be submitted directly to OR Match: CV, letter of intent, official NBEO scores, three letters of reference and official optometric transcripts.
Applicant must have earned an O.D. degree, or will have earned such a degree by the time of graduation, from an accredited school or college of optometry.
Applicant must have taken and passed Parts I and II of the National Board of Examiners in Optometry (NBEO) examination.
Applications will be evaluated by the Residency Coordinator.
An invitation for an in-person interview will be considered after the application is deemed complete by OR Match.
Applicant must be eligible for licensure as an optometrist in a state, territory, or commonwealth of the United States, or the District of Columbia and attain broad-scope licensure, including full therapeutic privileges, prior to the residency start date of July 1.
By congressional law, candidates must be citizens of the United States.
Candidates are advised that they must obtain State licensure that includes therapeutic licensure; however, a California license is not required.
Selection Process
The ranking process is initiated when the Residency Coordinator receives notification from ORMatch of a resident candidate's application to the program. The Residency Coordinator must receive the following documentation for a candidate to be considered for a residency position: ORMatch application, Curriculum Vitae, transcripts of NBEO scores, transcripts of optometric education, three (3) letters of recommendation, and a brief statement regarding desire to complete this residency program (letter of intent). An interview will be granted based upon the quality of the credentials, supporting documents, and the quantity and quality of completing candidates. Following interviews and just prior to the deadline date for submission of a ranking list to ORMatch, the Residency Coordinator ranks candidates in consideration of the combined relative quality of each applicant's credentials, interview, and other intangible factors such as their professional characteristics.  No candidate will be discriminated against based upon race, color, sex, religion, creed, national origin, age, or non-disqualifying physical impairment.                                   
Following the interview but just prior to the deadline date for submission of a ranking list to ORMatch, the Residency Coordinator ranks candidates in consideration of the combined relative quality of each applicant's credentials, interview, and other intangible factors such as their professional characteristics.
The Residency Coordinator submits a ranking list of preferred candidates to ORMatch.  Simultaneously, candidates independently submit a ranking list of preferred programs to ORMatch.  ORMatch subsequently informs the program and the candidates of the outcome.  In the event of not being matched, the Residency Coordinator can pursue interested candidates from the remaining unmatched pool or may consider any other qualified individual.
Completion Requirements
Completion and submission of all SCCO at MBKU required paperwork to the Residency Coordinator and SCCO at MBKU 

Quarterly Encounter Activity Report (VA CPRS document) used in place of SCCO at MBKU Quarterly Patient Encounter Log.
Quarterly Faculty Evaluations
Quarterly Program Evaluations
Quarterly Resident Referral Log
Quarterly Resident Activity Log
Quarterly Resident Reading Log
End of the Year Evaluation of Program
Certification of Completion of Residency Requirements
Resident Contact Address after Completion
 

Be present for complete academic year from July 1 through June 30 for the entire tour of duty except when on approved vacation, sick or authorized absence days.
Provide quality, compassionate, ethical care to all Veterans.
Attend the Greater Los Angeles VA Optometric Clinical Seminars Program, except on approved sick, vacation, or authorized absence days.
Develop a case report and/or poster consistent with fellowship requirements for the AAO or prepare a similar manuscript of publishable quality.
Prepare and present a lecture for SCCO at MBKU Residency Forum.
Highly encouraged to attend the American Academy of Optometry Meeting.
Returning any property of the VA (eg., badges, clinic coats, etc.)
The resident will be apprised periodically of evaluations received from clinical faculty and informed of recommendations or suggestions made to enhance performance.  Upon evidence of satisfactory performance in meeting all requirements of the program, the resident will be awarded a Certificate of Completion by SCCO and the Department of Veterans Affairs.
Program Accreditation
The Accreditation Council on Optometric Education (ACOE) continued the status of "accredited" for the program in 2016. The next scheduled site visit is 2024.
Housing
Housing is not provided by the VA for residents; however, due to the central downtown location and proximity to public transportation, including Union Station and several light-rail systems, resident should be able to find fairly affordable housing in cities contiguous to downtown Los Angeles.
Note:  Program activities and schedule are subject to change without notice
Health Professions Trainees (HPTs) are appointed as temporary employees of the Department of Veterans Affairs. As such, HPTs are subject to laws, policies, and guidelines posted for VA staff members.  There are infrequent times in which this guidance can change during a training year which may create new requirements or responsibilities for HPTs.  If employment requirements change during the course of a training year, HPTs will be notified of the change and impact as soon as possible and options provided. The VA Training Director for your profession will provide you with the information you need to understand the requirement and reasons for the requirement in timely manner.
FOR FURTHER INFORMATION, PLEASE CONTACT:
Dr. Diana Wu
Residency Program Coordinator
VA Los Angeles Ambulatory Care Center
Optometry Service MDP 112C
351 E. Temple St.
Los Angeles, CA 90012-3328
213.253.2677 • Fax: 213.253.5123 • chang.kim@va.gov
or
Judy W.H. Tong, OD
Assistant Dean of Residencies
Southern California College of Optometry at
Marshall B. Ketchum University
2575 Yorba Linda Blvd.
Fullerton, CA 92831-1699
714.449.7429 • Fax: 714.992.7811 • e-mail: jtong@ketchum.edu