Residency in Primary Eye Care Optometry
Established: 2021
Positions: 2
Kaiser Permanente, Los Angeles, California
Department of Optometry
1515 N. Vermont Ave.
6th Floor
Los Angeles, CA 90027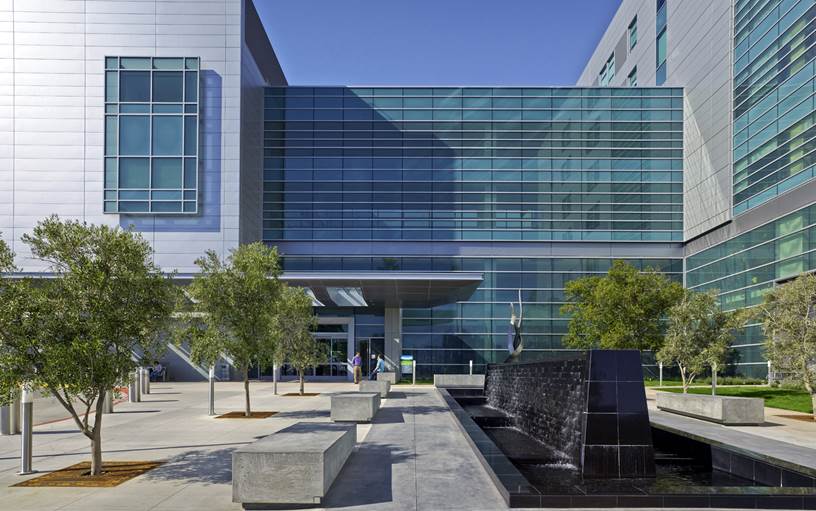 Program Faculty
Jonathan P Christie, OD, FAAO
Residency Coordinator
Ruby L Bates, ABOC
Residency Program Administrator
Larry Macapagal, OD
John Shan, OD, FAAO
Munish Sharma, MD, OD, MBA, FAAO
Mission Statement
The Optometry residency seeks to attract the best qualified optometric graduates and provide training in primary care with advanced clinical and diagnostic skills through direct patient care as part of a multidisciplinary integrated care team.  Our resident will gain experience managing ocular disease, ophthalmic manifestations of systemic disease and medications, specialty contact lens fitting, low vision, and pediatric eye exams.  The residency will promote the development of skills as an educator and self-learner. It will also prepare them for their role as a leader in the optometric community through leadership development training and will provide them with the unique opportunity to learn about Kaiser Permanente's Labor Management Partnership (LMP).  The resident will further their optometric knowledge by engaging in both didactic and scholarly activities. Residents will work to fulfill Kaiser Permanente's goal to make lives better by improving the wellness and quality of life for our members, physicians, employees, and the communities that we serve. Upon completion of the residency, the clinician will be ready to assume a leadership role in academics or any clinical setting from hospital based to public or private sector.
Program Description
Program Goals
To expand the resident's skills, experience and knowledge base in primary eye care and ocular disease detection, diagnosis, and management.
To provide a didactic education to enhance the resident's clinical decision-making skills, to develop the resident's appreciation for scholarly activities and commitment to lifelong learning.
Provide the resident with a practical understanding of their role as an integral member of a multidisciplinary health care team and to recognize the importance of an integrated coordinated approach to health care delivery.
To provide the resident with leadership fundamentals that will prepare them to lead and work collaboratively within teams.
Provide the resident with the opportunity to develop cultural competency by learning how to meet the needs of the diverse cultural and socioeconomic groups that make up our metro Los Angeles service area.
Program Objectives
The resident will have at least approximately 1,200 direct patient care encounters consisting of primary and secondary eye care. These encounters will consist of regularly scheduled patients and non-scheduled urgent care patients.
Ensure the resident's skills in primary eye care, including contact lenses, binocular vision, ocular disease detection, diagnosis and management is strengthened and expanded. The resident will develop and demonstrate the ability to form appropriate ocular differential diagnoses.  
The resident will acquire hands-on experience with advanced techniques and ophthalmic skills. Advanced techniques may include cranial nerve testing, epilation, exophthalmometry, foreign body removal, fundus contact lens examination, gonioscopy, imaging orders, laboratory orders, OCT interpretation, pachymetry, punctal dilation and irrigation, punctal plug insertion, retinal photography, visual field interpretation, vitals.
The resident will interact with ophthalmological and non-ophthalmological healthcare providers via phone consults, virtual consults, and non-urgent consultations and referrals.
The resident will attend continuing education conferences and/or workshops on ocular disease and advanced clinical techniques.
The resident will participate as a member of the health care team by adding diagnoses and other information useful to the multidisciplinary health care team into the HealthConnect electronic medical record system.
The resident will interact with non-ophthalmic health care providers from a variety of disciplines, which may include family practice, internal medicine, pediatric, dermatology, neurology, rheumatology, radiology, social work, and speech/language/learning services.
The resident will prepare and deliver lecture presentations and/or clinical information to audiences comprised of Optometrists and possibly non-ophthalmic health care providers (MAs, OAs, non-Optometric residents, and physicians).
The resident will prepare a manuscript of publishable quality.
The resident will attend and actively participate in Friday conference/rounds, optometric medical education, and case reviews in person or virtually.
The resident is strongly encouraged to attend the annual meeting of the American Academy of Optometry and/or other major regional optometry meetings.
The resident will participate in Kaiser Permanente LAMCs unique Optometry Leadership Program (OLP) and learn leadership fundamentals that will prepare them to lead and work collaboratively within teams.
The resident will experience and learn how to deliver high-quality optometric care to the diverse population of our Los Angeles service area.
Schedule
Example of a Typical Daily or Weekly Schedule in Clinic
Hours: The resident can work up to two Saturdays* a month with a corresponding day off during the week, depending on academic needs, resident preference, and exam room availability. Scheduled start time will not be before 6am and scheduled end time will not be after 7pm**. The residents will be scheduled for clinic time of approximately 40 hours a week**.
Currently 2023/2024 no on call duties.
Residents are expected to remain in clinic until all patients are seen.
Duty hours: All clinical and academic activities related to the training program, including direct patient care, administrative duties related to patient care, on-call, scheduled academic activities, or moonlighting activities, are limited to 80 hours a week, averaged over a 4-week period.
*Any Saturday resident staffing is solely based on furthering the resident's academic development.
**Clinic start and end times may vary and day to day schedule may vary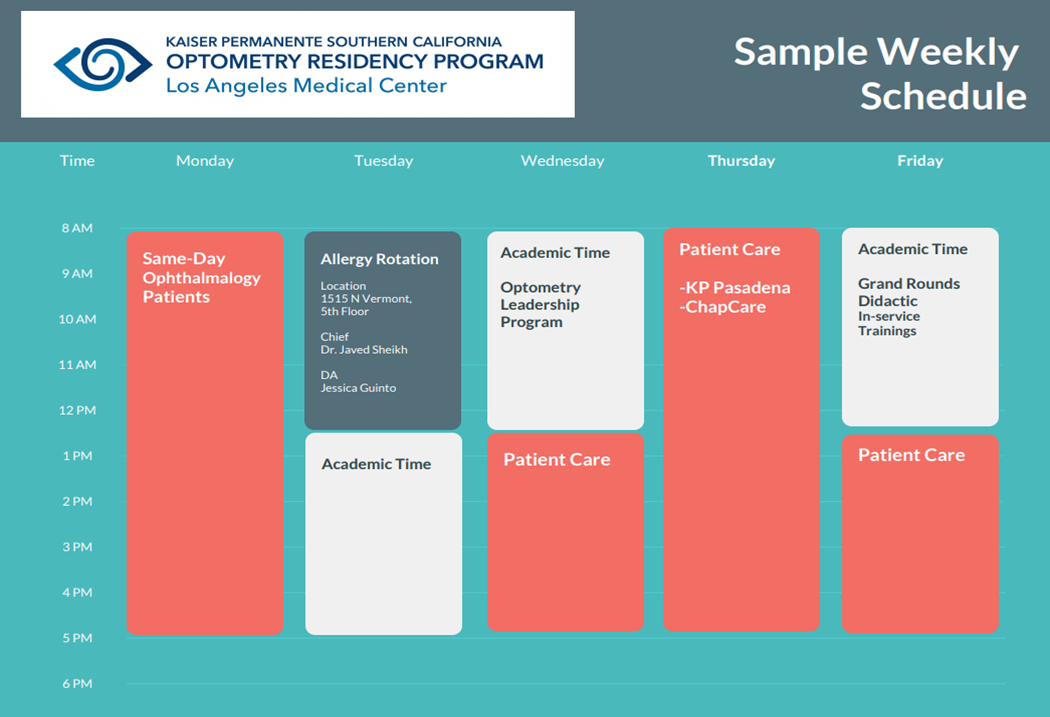 Duration of Program
12 months: Approximately August 1 to July 31
Approximation dye to Kaiser Permanente onboarding protocols
Type and Number of Patients
Minimum of 1,200 direct patient encounters in Primary Eye Care including
Geriatric
Pediatric
Contact Lens
Ocular Disease
Binocular Vision
Same day urgent/red eye
Clinical Teaching Opportunities / Lecturing Activities
Lectures/in service training in ophthalmic disease and examination techniques presented to groups which may include Optometrists, eye care staff, ophthalmic professionals, and non-ophthalmic health care providers
Case discussions, reviews, and lectures with mentors and or residency preceptors
Scholarly / Didactic Activities
Leadership and management workshops/meetings
Attend continuing optometric and medical education conferences/workshops/meetings on primary eye care, ocular disease, systemic conditions that affect ocular health, and advanced clinical techniques
Participate in Friday conference held at KP LAMC including, "image of the week" discussion, case discussions and presentations, journal club, grand rounds presentations and frequent quizzes
Research Project with residency program faculty
(2) Case report or research papers of publishable quality are required 

(1) case report/or research paper will be required to submit for publication before the program end

Resident will submit a poster presentation and is encouraged to attend both the American Academy of Optometry (AAO) & Southern Council of Optometrists (SECO) annual meeting.
Facilities:
The residents will be expected to rotate through all Los Angeles Medical Center locations which currently includes the following:

"Sunset" 1515 N Vermont Ave 6th Floor Los Angeles, CA 90027
Pasadena Optometry/Vision Essentials 1055 E Colorado Blvd #100, Pasadena CA 91101
East Los Angeles 5119 Pomona Blvd, Los Angeles CA 90022

The residents will also occasionally be expected to travel to locations out of the Los Angeles Service Area including San Bernardino and the San Fernando Valley.
Equipment:
All of our exam rooms are outfitted with Marco RT 5100/6100 phoroptors, Haag Streit BQ or BM Slit lamps, Wireless LED BIOs and assorted condensing lenses.  We have an assortment of TonoPen XL, Tonopen AVIA, iCare Tonometers as well as pachymate 2 and Pachette 4 pachymeters.  We have 2 Heidelberg Spectalis OCT with anterior-segment capabilities as well as 2 Zeiss/Humphrey HFA3-860 Visual Field Machines.  We have 2 fundus cameras and a slit lamp imaging system.
Staffing
We have 12+ clinic assistants, which consist of LVNs (Licensed Vocational Nurses), MAs (Medical Assistants) and OAs (Optometric Assistants).  Our assistants run our OCT/VF and Retinal cameras as well as work up patients for the Staff ODs.  LVNs also administer flu vaccinations and draw blood for HbA1c testing. 
Information Resources
Kaiser Permanente has an extensive medical library with many specialty and optometry/ophthalmology journals available online or by print.  MBKU also grants remote access to residents to their library services.
Compensation and Benefits
The resident will be compensated as an employee of the Kaiser Permanente
Stipend: Total stipend of approximately $64,377, less any federal/state required payroll deductions, will be paid by Kaiser Permanente. Not contingent upon productivity.
Health Insurance: Kaiser Permanente
Holidays: There are 7 paid holidays which are currently:  New Year's Day, Memorial Day, Independence Day, Labor Day, MLK Day, Thanksgiving Day, and Christmas Day
Educational Travel: The residents will be granted time off to travel to approved conferences.
Paid Time Off: 15 days per year *this includes education time off for attending AAO and other conferences
Liability Insurance: Kaiser Permanente
Application Process
Application materials must be complete by Jan 31.
Only eligible candidates who have met all program prerequisites and who have completed the entire application process including interview will be considered for ORMatch (Optometry Residency Matching System) ranking.
Admissions Eligibility Criteria
Must be a U.S. citizen

Applicant must be fully vaccinated against COVID-19.

Applicants must have graduated from an optometry school, college, or university accredited by the Accreditation Council of Optometric Education before the start of the program.

The applicant must apply through the Optometric Residency Matching Service (ORMatch) and follow the guidelines. The completed application must be received by January 31st of each calendar year.

Applicants must have earned a terminal GPA of at least 3.25 in optometry school.
Applicants must have successful passage of NBEO I, II, III and TMOD prior to the ORMatch matching deadline. If possible, highly preferred passage of NBEO I, II, III and TMOD by Interview day.

A copy of your curriculum vitae and a 1-page letter of intent should accompany the formal application process.

Applicants are to submit three letters of recommendation as part of the formal application process.

Applicants must provide transcripts of graduate and optometry school as part of the formal application process.

An interview prior to ORMatching Deadline is required. In person interviews are strongly encouraged but a video interview (Zoom, MS teams, or other) maybe conducted if the candidate is unable to interview in person.

All applicants will be evaluated without regard to gender, race, color, religion, age, marital status, sexual orientation, national origin or non-disqualifying physical abilities.
Selection Process
The Residency Coordinators and Residency Program Administrator decide which candidates to rank for the match and determine the sequential ranking of those candidates based on the application materials, the on-site interview, letter of intent, and recommendation letters.  Candidates are ranked according to the following categories and weight:
GPA 15%

NBEO Scores 15%

Letters of Recommendation 20%

Letter of Intent 10%

Interview 20% (may include on site oral/written/practical testing)

Special qualities/characteristics 20%




Personality

Motivation

Professionalism

Communication skills

Willingness to learn

Attitude

Ability to work as part of a team, etc.
Final candidates' selections are reviewed by the Assistant Dean of Residencies and the approved list is submitted to ORMatch by the Residency Coordinator.

ORMatch contacts the Residency Coordinator with the results of the match

The Program Coordinator contacts the matched candidate within 1 week to confirm their intent to enroll in the residency program.
Requirements for Residency Completion and Awarding of Certificate
Be present for complete academic year from approximately August 1 through July 31 for the entire term of duty except when on approved vacation, sick, or authorized absence day
The resident will be expected to perform in a professional manner in the delivery of patient care services and to observe those proprieties of conduct and courtesies that are consistent with the rules and regulations governing KP and SCCO at MBKU.
The resident is required to provide quality, compassionate, and ethical care to all KP patients and all the while deliver clinical services at a level that is satisfactory to the Residency Coordinator and the Assistant Dean of Residencies.
The resident is required to complete the requirements set forth in the curriculum and keep a detailed log of all required program aspects which will be reviewed at least quarterly by the Residency Coordinator and the SCCO at MBKU Assistant Dean of Residencies.  These documents include:

Quarterly encounter activity
Quarterly patient encounter log
Quarterly faculty evaluations
Quarterly program evaluations
Quarterly resident referral log
Quarterly resident activity log
Quarterly resident reading log
End of year evaluation of program
Certification of completion of residency requirements
Resident contact address after completion

The resident will be required to write a publishable quality paper based on original research, literature review, or a clinical case.
The resident is highly encouraged to participate and present at the Southern California College of Optometry at MBKU Annual Residency Forum.
The resident is highly encouraged to attend and participation at the Annual American Academy Meeting, California Optometric Association Symposium, or any pre-approved educationally rich meeting.
The resident is required to return any property that belongs to Kaiser Permanente at the end of the residency year.
Upon successful completion of the Residency Program, the Residency Coordinator and the Assistant Dean of Residencies will recommend the granting of certification to the Dean at the Southern California College of Optometry.
Any resident accepted for training can be dismissed, without receiving a certificate of completion, for infractions of the rules and regulations of Kaiser Foundation Health and/or Southern California College of Optometry at MBKU, or for any action that jeopardizes the safety of patients, personnel, or physical facilities.
Program Accreditation
The Accreditation Council on Optometric Education (ACOE) granted the status of "accredited" for the program in 2022. The next scheduled site visit is in 2030.
Local Activities & Attractions
Griffith Observatory
Getty Center
Huntington Library, Art Collections & Botanical Gardens
Grand Central Market
Santa Monica Pier
Hollywood Bowl
Sunset Strip
Los Angeles County Museum of Art (LACMA)
Hollywood Sign & Hollywood Blvd
Venice Beach and Boardwalk
Disneyland & Universal Studios
Points of Contact / Faculty
Jonathan P Christie, OD FAAO
Residency Coordinator
Ruby Bates, ABOC
Residency Administrator
Kaiser Permanente, Los Angeles
Department of Optometry
1515 N Vermont, 6th Floor 
Los Angeles, CA  90027
323.219.7974 • Email: Jonathan.P.Christie@kp.org
Judy W.H. Tong, OD
Assistant Dean of Residencies
Southern California College of Optometry at
Marshall B. Ketchum University
2575 Yorba Linda Blvd.
Fullerton, CA 92831-1699
714.473.7568 • Fax: 714.992.7811 • Email: jtong@ketchum.edu