ACHIEVING 20|20 Campaign Cabinet Chair Lynn Caffrey Gabriel, OD, shares an update for Winter 2016.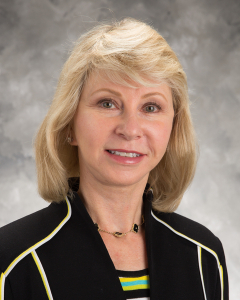 What a privilege it is to serve as a member of the MBKU board of trustees. As a 1978 alumna of SCCO, I have seen many great achievements from the early days when LACO moved from Los Angeles to Fullerton to become SCCO and now as we have become an interprofessional heath care university. As a member of the Board's Advancement Committee chaired by fellow trustee Richard Price, I marvel at what has been accomplished and what is yet to unfold. With the leadership and vision of President Alexander and the Board of Trustees, we acquired the great new space in Anaheim. Wasting no time, we moved to brand the new building as Ketchum Health at our groundbreaking ceremony on June 15, 2015.
Today, we are exquisitely positioned to bring the Ketchum University brand to the world. Our family has quickly expanded with the addition of the School of Physician Assistant Studies and the planned College of Pharmacy; the perfect pairings with our legendary Southern California College of Optometry.
As chair of the ACHIEVING 20|20 Campaign Cabinet, I am committed to my alma mater and its new vision to reimagine the future of health care education. But the heart and soul of any great institution is the belief in the nobility of asking. We will continue in this noble effort by asking for your generosity because asking is how we all make things happen. Do not miss being part of IN THE MAKING at MBKU!
Whether you choose to participate as a donor, volunteer or vocal champion, MBKU is determined to make you proud of your contributions. Your support will help sustain our century-old reputation of the highest quality educational and clinical standards. With $20 million raised by 2020, we will cement our commitment to world class facilities, clinical experiences, student scholarships and research grant support that makes it all possible. Giving to Ketchum is supporting the preparation of tomorrow's health care providers.
It is my privilege to ask for your boldness in giving to this bold vision and opportunity. Contact the Office of University Advancement at 714.449.7461 or go online today at ketchum.edu. The future is expecting us! If you need anything from us, please don't hesitate to ask.
Lynn Caffrey Gabriel, OD
Board Trustee
ACHIEVING 20|20 Campaign Cabinet Chair