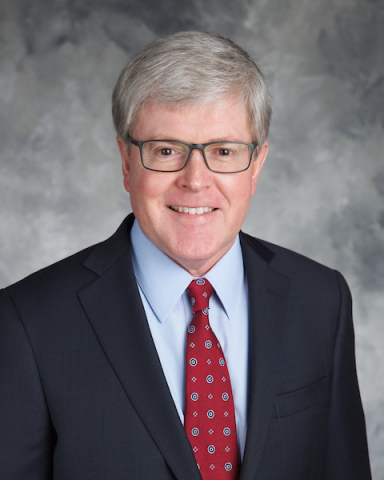 Fall represents a time of change and transformation. At Ketchum University, the 2017 fall quarter is particularly exciting as we open our new Health Professions Building, bringing together all three professions on the Fullerton campus for the first time since we became a University in 2013. I encourage you to turn to page 26 to see for yourself this beautiful interprofessional learning environment.
I'm also excited to share that fall has brought forward some leadership changes at the University. I would like to introduce our readers to the new MBKU Alumni Association President, Wynette Augustine, OD, '84, and the new Chair of MBKU's Board of Trustees, Judge Carol Najera.
Dr. Augustine graduated cum laude from the University of California, San Diego, with a Bachelor of Arts in Biology. She then graduated with honors from the Southern California College of Optometry in 1984. For the first five years of her professional career, Dr. Augustine was an Assistant Professor at SCCO. She also practiced in multiple settings, including private practice and large multi-specialty medical practices.
Today, she practices at Orange County Eyecare Optometry, Inc. in Placentia, Calif. Her experience in the profession of optometry has included contact lens and solution investigational studies. Previously, she served as an expert examiner for the National Board of Optometry in Fullerton, Calif. and New York, N.Y. She also served for many years as an expert exam writer for the California Board of Optometry.
I am excited to work alongside Dr. Augustine and our dedicated volunteers who serve on the MBKU Alumni Association Board. These talented individuals act as our conduits to our alumni around the world, so I encourage you to learn more about the Alumni Association by visiting ketchum.edu/alumni.
I am also honored to introduce Carol J. Najera, JD, to you as the new Chair of the Board of Trustees. Judge Najera has served as a Los Angeles County Deputy District Attorney for 30 years, before being elected to serve as a Los Angeles County Superior Court Judge, a position which she currently holds.
She graduated from the University of Southern California Law School, where she also earned her undergraduate degree. At law school, she distinguished herself by earning a position on the Hale Moot Court Honor Society and attaining the level of quarter-finalist in the annual competition.
After becoming a Los Angeles County Deputy District Attorney, she successfully co-prosecuted the Menendez Brothers for the murders of their parents.
In the past she has served on the Board of the Lincoln Training Center, an organization that provides training and vocational therapy for people with developmental and physical disabilities. She was also an officer in the Women Lawyer's Association and served on the Board of the Association of Deputy District Attorneys.
On a personal note, her grandparents emigrated here from Mexico at the turn of the last century. Her parents came to California during the depression and settled in East Los Angeles. Her father was a steel worker and union shop steward at Bethlehem Steel for 35 years, while her mother raised their 11 children.
Judge Najera has been married for nearly 30 years to a Los Angeles County Deputy Sheriff who is now retired. He is also a veteran of the Vietnam War. They have four children.
"It is now my privilege to serve as President of the Board of Trustees of Marshall B. Ketchum University," says Judge Najera. "As you know, this is a dynamic time in the history of our University. It is a time that presents wonderful opportunities and exceptional challenges, and I will work with President Alexander on behalf of this institution to seize these opportunities and accept and complete these challenges."
This fall, I welcome all new and returning students back to campus and am looking forward to working with Dr. Augustine and Judge Najera as we reimagine the future of health care education.
Warm Regards,
Kevin L. Alexander, OD, PhD
President