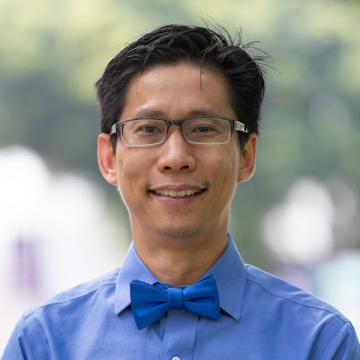 Andy Nauli, PhD
Education
PhD, University of Cincinnati
Biography
Dr. Andy Nauli is an Associate Professor at Marshall B. Ketchum University (MBKU) College of Pharmacy. Prior to joining MBKU, he served as a faculty member at California Northstate University College of Pharmacy (CNUCOP), East Tennessee State University (ETSU) College of Public Health, and ETSU College of Medicine. Throughout his academic career, he has taught several courses, including but not limited to, Human Anatomy, Anatomy and Physiology, and Pathophysiology & Pharmacology. He has also served in various University-level (Faculty Senate, Scholarship & Awards), College-level (Faculty Council, Admissions, Assistant Dean Search), and Department-level (Faculty Search) committees.
Dr. Nauli received his PhD degree from the University of Cincinnati in 2005, and did his postdoctoral fellowship at The Scripps Research Institute (TSRI). During his training, he was selected to receive 2 prestigious American Heart Association (AHA) awards: the AHA predoctoral fellowship and the AHA postdoctoral fellowship. 
His research interests include dietary fat absorption, chylomicron biogenesis, oral lipophilic drug bioavailability, and red meat allergy. His work has received more than 500 citations and $200,000 in funding (role: principal investigator). He was recently selected by his peers to receive the 2015-2016 CNUCOP Faculty Researcher of the Year Award. He has trained more than 12 students in his laboratory. Some of his research students are now pursuing their advanced degree in science (PhD), medicine (MD/DO), and biomedical engineering (PhD). 
Dr. Nauli has also served as a reviewer for several reputable journals, including Journal of Biological Chemistry, Metabolism, and American Journal of Physiology. He chaired the 2016 CNUCOP seed grant committee, and was invited as a reviewer for the American Association of Colleges of Pharmacy (AACP) grants. He is currently an editorial member of several peer-reviewed journals.