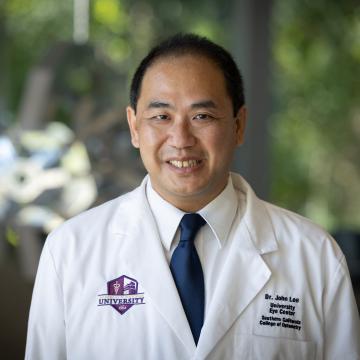 John H. Lee, OD, FAAO
UECKH
Assistant Chief, Jarnigan Primary Care Service
Coordinator, Optometry Service at CSUF
Education
BA, University of California, Berkeley
OD, State University of New York
Residency in Vision Enhancement and Rehabilitation, SUNY
Biography
Dr. John Lee received his Doctor of Optometry degree from the State University of New York, State College of Optometry. He then completed a one-year residency in Vision Therapy and Rehabilitation at the same institution.  He is a graduate from the University of California at Berkeley with a Bachelor of Arts degree in Molecular Cell Biology with an emphasis in Immunology.  Dr. Lee is a fellow of the American Academy of Optometry and diplomate of the American Board of Optometry.  
Dr. Lee is Assistant Professor at the Southern California College of Optometry.  His primary teaching responsibilities are in clinical education and primary care optometry, teaching our students not only to be outstanding clinicians but to be excellent role models and community partners. Dr. Lee is also Assistant Chief of the Jarnigan Primary Care service.  He enjoys seeing patients of all ages and appreciates getting to know his patients and their families. 
Dr. Lee also teaches in the international optometry program, teaching students at the Tokyo Optometric College in the areas of ocular health assessment and ocular disease.  His research and writing interests are in the areas of clinical education, geriatrics, binocular vision and patient care.
Born and raised in San Francisco, Dr. Lee misses the fog but appreciates the sunshine in Southern California.  When not seeing patients or teaching, you can find him spending time with his family, traveling, or strolling in a Disney park.  Say hello when you see him!