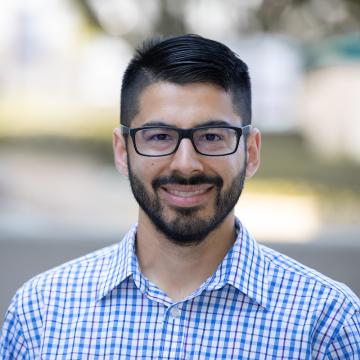 Kayvan Moussavi, PharmD, BCCCP
COP
Assistant Professor, Department of Pharmacy Practice
Education
BS, University of California, San Diego
PharmD, Skaggs School of Pharmacy and Pharmaceutical Sciences at UC San Diego
PGY1 in Acute Care Residency, UC San Diego Health
PGY2 in Critical Care, Loma Linda University
Biography
Kayvan Moussavi, PharmD, BCCCP is an Assistant Professor in the Department of Pharmacy Practice at Marshall B. Ketchum University (MBKU) College of Pharmacy.  He joined MBKU in 2018.  Dr. Moussavi is a board-certified critical care pharmacist.  He obtained his BS from UC San Diego in 2007 and his Doctor of Pharmacy from Skaggs School of Pharmacy and Pharmaceutical Sciences at UC San Diego in 2011.  Dr. Moussavi completed his PGY1 acute care residency at UC San Diego Health and his PGY2 in critical care at Loma Linda University. 
Dr. Moussavi practiced as a Clinical Pharmacy Specialist in the Emergency Department (ED) at Loma Linda University Medical Center (LLUMC) and Assistant Professor at the LLU School of Pharmacy for five years.  His responsibilities included providing drug information to ED and hospital staff, participating in management of medical emergencies, identifying and completing quality improvement projects, and teaching pharmacy students and residents.  Dr. Moussavi currently coordinates the neurology/toxicology pharmacotherapeutics course at MBKU and serves on the Assessment and Experiential Education Committees.  His practice site will be in emergency medicine at a local Orange County Medical Center.  He is a member of the ASHP, CSHP, and SCCM.  Dr. Moussavi serves on the SCCM Clinical Pharmacy and Pharmacology Journal Club Committee and manages the social media component of that committee.        
Dr. Moussavi has numerous research interests pertaining to emergency medicine, critical care, and education.  He has presented and published abstracts, review articles, and manuscripts on a variety of topics including ED pharmacist impact on clinical services, hyperkalemia management, ketamine use in critically ill patients, and medication safety.  He is also a guest reviewer for the Journal of Pharmacy Practice, Journal of Critical Care, and SCCM Congress. 
When Dr. Moussavi is not engaged in professional activities, he enjoys rock climbing, watching and playing soccer, and spending time with family and friends.