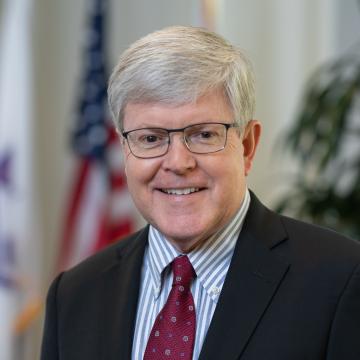 Kevin L. Alexander, OD, PhD
Education
BS, The Ohio State University
OD, The Ohio State University College of Optometry
MS, The Ohio State University
PhD, The Ohio State University
Fellowship in Vitreo-Retinal Disease, OSU College of Optometry/Retina Vitreous Associates, Toledo, Ohio
 
Biography
Dr. Kevin L. Alexander is the founding President of Marshall B. Ketchum University in Fullerton, California. He earned his O.D. and Ph.D. degrees at The Ohio State University. Following graduation, he entered academia as an OSU professor, teaching ocular disease and pharmacology, while at the same time beginning his practice in Columbus, Ohio.  In the late 80's he returned to Toledo, Ohio and served as Center Director of The Eye Center of Toledo joining with ophthalmologists to pioneer optometric co-management of cataract patients.  He later joined Retina Vitreous Associates advancing optometric co-management of retina patients.  During his time in clinical practice, Dr. Alexander established a residency program in ocular disease and is credited with creating one of the first fellowships in vitreoretinal disease for optometrists.
In 2000, Dr. Alexander left clinical practice returning to academia as Dean of the Michigan College of Optometry (MCO) at Ferris State University. At MCO, he expanded the curriculum, added optometric residencies, and set in motion the drive for a new optometry building constructed shortly after he left.
In 2008, he was selected President of Southern California College of Optometry and expanded its mission to include interdisciplinary health care education by creating Marshall B. Ketchum University (MBKU). Dr. Alexander was named the Founding President of MBKU in 2013, adding physician assistant studies and pharmacy to join the century-old optometry program.  From 2013 to 2019 construction projects doubled the size of the MBKU campus.
Dr. Alexander has presented more than 275 lectures in 15 states, the U.S. Virgin Islands, and five countries. He has authored numerous articles and edited a textbook. He is a Fellow of the American Academy of Optometry and was a Diplomate of the American Board of Optometry from 2011 - 2020.  Dr. Alexander has served as President of the Ohio Optometric Association, the Association of Schools and Colleges of Optometry and the American Optometric Association. He has received numerous awards including the Ohio State University Alumni Award for Distinguished Teaching, the H. Ward Ewalt Award for Distinguished Professional Service, Ohio Optometrist of the Year, and is a National Optometry Hall of Fame inductee.