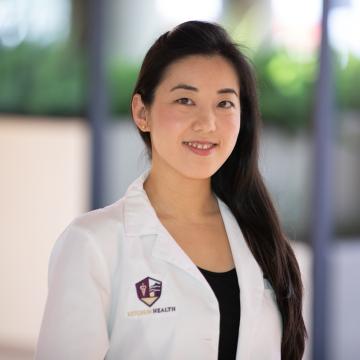 Rachelle Lin, OD, MS, FAAO
Education
BS, BA, University of California, Irvine
OD, SCCO
MS, SCCO
Residency in Low Vision/Traumatic Brain Injury/Primary Care, VA Long Beach Healthcare System
Biography
Dr. Rachelle Lin received her Doctor of Optometry and Master of Science in Vision Science degrees from the Southern California College of Optometry (SCCO). She completed her post-graduate residency at the VA Long Beach Healthcare System in low vision, traumatic brain injury, and primary care.
Dr. Lin is currently a full-time Assistant Professor at Marshall B. Ketchum University (MBKU). She treats patients in the clinical departments of Low Vision Rehabilitation and Acquired Brain Injury at the University Eye Center at Ketchum Health in Anaheim, CA. At MBKU, she teaches low vision rehabilitation, optics, clinical methods, and nutrition. She is regularly invited to conduct continuing education courses on traumatic brain injury and vision rehabilitation.
Dr. Lin is an active member of the American Optometric Association and the California Optometric Association, where she has served as Chair of the Low Vision Rehabilitation Section and as President of the Orange County Optometric Society. She is also a Fellow of the American Academy of Optometry.