Body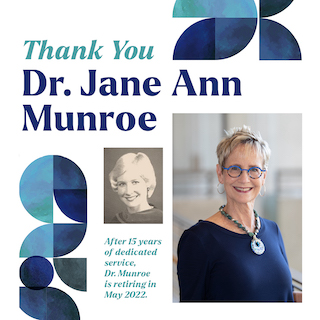 Some time ago, a bold young person visited the campus of a well-known college of optometry, as confident in her calling to become an optometrist as she was in the knowledge that she was already at the place she would do it. Since it was unofficial, her tour was essentially self-guided; in fact, the only assistance the young person had was from the older sister she had convinced to drive her there – she was, after all, only ten years old. 
That young girl was Dr. Jane Ann Munroe, OD. She did in fact become an optometrist, and trained at Southern California College of Optometry, the school she toured as a child. Dr. Munroe has also been a clinician, private practice owner, mentor, and, for the last 15 years, SCCO's Assistant Dean of Admissions, a position from which she will retire at the end of the 2021-2022 academic year. The admissions department that Dr. Munroe has led for years at SCCO with great character and good cheer is distinguished by its caring and supportive approach to each and every person it serves; it's not impossible to see how that plucky ten-year-old girl who blazed a very difficult trail for herself in the 60s and 70s became a woman who turned back with an outstretched hand to help make the paths of so many others easier. 
"Dr. Munroe has accomplished so much in her role, and she has brought heart and ingenuity to our recruiting process," said SCCO Dean Jennifer Coyle. "Throughout her time here, she has also been a leader in optometric education and expanded our sphere of influence through her work with ASCO in prominent roles. She is considered the go-to expert on all things admissions in our profession, and her enthusiasm, dedication to our students and our program, and her uplifting, cheery smile will be greatly missed by all of us. I wish to congratulate her on an exemplary career at MBKU!" 
After graduating from SCCO in 1977, Dr. Munroe co-owned a successful private practice, and eventually became Clinic Director of New Vista Eye Care Medical Group. She was also on staff for a number of years at Riverside General Hospital through Loma Linda University, and then, subsequent to another stint in private practice, Dr. Munroe joined SCCO's Student Affairs Department in 2006. In that role it is safe to say that Dr. Munroe found a new calling: serving prospective students, treating their inquiries with attention and care, helping them navigate a complex and intense process, and all the while building an innovative department that could function effectually in changing times. 
One of Dr. Munroe's most important and telling contributions to optometric education is surely her creation of the SCCO Admissions Blog. This website has become a vital resource for potential optometry students across the country and internationally, irrespective of their connection to SCCO. "Dr. Munroe has a really healthy balance of loyalty to SCCO as her alma mater, but also an understanding of the bigger picture, and how we're serving students for the profession," says Eryn Kraning, Senior Director of Recruiting and Admissions at SCCO. "We put information out there that's going to help everyone, and we've heard over and over people express such gratitude, because they were wandering in the dark until they found our blog. So, in a way, she's mentored thousands of people over the years! She gives every potential student the same amount of time and guidance, even if they're not likely to come to SCCO. She was a first-generation college student who had to figure out a lot of stuff on her own, and I think that really drives the compassion she has for students now." 
Dr. Munroe's compassion and mentorship are not just experienced by students. Staff members like Eryn Kraning and SCCO Admissions' Administrative Assistant Mari Rodriguez are also beneficiaries of her heart for others. "I've had the pleasure of becoming forever-friends with Dr. Munroe for the last five years," says Rodriguez. "She is a valued mentor, a dear friend, and a close confidant. She has walked with me through tough challenges, rejoiced with me in success, and has never ceased to offer words of wisdom and encouragement. Her friendship and strength have left a permanent impression on my life." 
Dr. Munroe's other important contributions include developing the online platform for SCCO admissions, overseeing SCCO's social media presence, and helping to scale up the admissions process for the School of PA Studies and College of Pharmacy when Marshall B. Ketchum University was founded. She is also a national leader in the world of admissions, having served on a number of committees and for organizations aimed at furthering the profession of optometry through education, including the ASCO-AOA Joint Project Team on Further Developing a Robust, Diverse, and High Qualified National Applicant Pool, the Applicant Development Task Force, and most recently as Chair for the Student Affairs and Admissions Officers Committee. 
"When Jane Ann stepped in to her role in Admissions, our whole world changed," says Dr. Julie Schornack, Senior Vice President and Chief of Staff at MBKU. "Every potential applicant was captivated by her warmth and individual attention, and it has served  SCCO well. She was always on the lookout for how to position SCCO as a unique and desirable place to be. For all that work on behalf of the University, we are grateful. As Jane Ann steps in to the next phase of her life, we wish her nothing but creative days and new adventures. We will miss her incomparable spirit!" 
Time after time, MBKU students remark with surprise and gratitude on the way they were treated before they were ever actually enrolled. This says as much about how important Dr. Munroe is to Marshall B. Ketchum University as her considerable accomplishments, and it's a fitting capstone to a legacy that began when she was just ten years old.