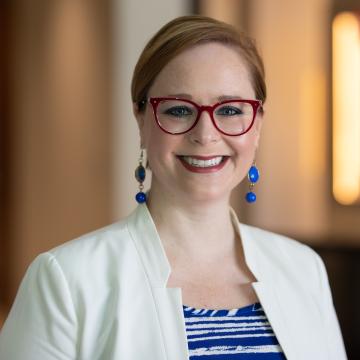 Katie Santos-Coy, MBA
MBKU
Director of University Marketing & Communications
Education
BA, Sacramento State University
MBA, Western Governors University
Biography
Katie Santos-Coy joined Ketchum University in September 2014. She leads the execution of MBKU's strategies to increase brand awareness while ensuring integrity across all communication platforms and channels.
Bringing more than 10 years of communications and marketing expertise, Katie most recently served as Associate Director of Communications and Social Media at Dartmouth College. In her role at Dartmouth, she led the department through a website redesign, created consistency through print media, streamlined the social strategy through cross-campus partnerships, implemented the college's first-ever virtual tour, produced multiple YouTube videos, and managed a small team of professionals and students. Previously, she served in various marketing and communications capacities for the California Dental Association, California School Boards Association and at Sacramento State University. 
At MBKU, Katie serves as editor of Ketchum Magazine, the official periodical of Marshall B. Ketchum University. In 2017, Ketchum Magazine won the CASE District VII Silver Award of Excellence. She also manages mar/com-related budgets, the university's external-facing websites, media relations, MBKU brand guide (2016 CASE District VII Bronze Award of Excellence), social media, special projects, and oversees a small team of marketing professionals. 
Katie is a member of the Council for Advancement and Support of Education (CASE) and has served as a volunteer judge for the District VII awards program. She also serves on the Communications Task Force for the Association of Schools and Colleges of Optometry (ASCO) and is a member of the American Marketing Association and Public Relations Society of America. 
Katie and her husband live in Santa Ana, CA with their fur child, Morgan. Katie earned her BA in Government from Sacramento State University and an MBA from Western Governors University.