Sierra Vista Community-Based Outpatient Clinic (CBOC), Sierra Vista, AZ
Southern Arizona VA Health Care System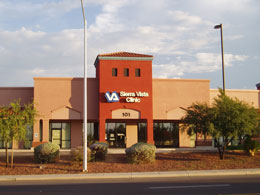 Program Type: Ocular Disease / Primary Care
Established: 2013
Positions: 2
Accreditation: Fully Accredited by the Accreditation Council on Optometric Education
Sierra Vista CBOC
101 N. Coronado Drive, Suite A
Sierra Vista, AZ 85635
Program Faculty
Mark McKenzie, OD, FAAO
Mission Statement
The fundamental mission of this training program is to offer a post-doctoral optometric residency in ocular disease and primary care that enables practitioners to attain the advanced competencies and specialty skills needed to effectively manage the eye, vision, and related health care of patients in a Community-Based Outpatient Clinic (CBOC) within the Southern Arizona VA Health Care System (SAVAHCS).
| | | | |
| --- | --- | --- | --- |
| | | | |
Program Description
The residency is a one year post-graduate training program from ~ July 1 – June 30. Patient care occurs at a multidisciplinary facility located 70 miles from the affiliated VA medical center and serves the rural population surrounding Sierra Vista and Fort Huachuca. Many of the veterans served by the clinic are either unable or unwilling to travel to the affiliated VA medical center. Therefore, the residents are exposed to a large patient base in need of complex care. The Sierra Vista CBOC is a close-knit environment of approximately 40 employees where the residents are part of the multidisciplinary team.
Program Goals
Ensure that the resident develops advanced eye/vision/health care management skills
Educate resident to optometry's role as a contributing member of each patient's health care team
Educate resident on his/her potential and means to serve/advance the profession
Instill in resident an appreciation for the importance of ongoing professional development
Program Objectives
Demonstrate proficiency in advanced eye/vision care procedures, provide care to at least 1200 patient encounters, and walk-in/urgent care cases and provide proper follow-up affording continuity of care, and communicate with other clinical services as indicated.
Provide an orientation, serve as an entry point for eye care services, serve as a member of interdisciplinary team, and attend medicine-based education lectures.
Introduce future career prospects, introduce opportunities for involvement at state and national professional societies and organizations, develop a poster/paper outline and abstract to educate the resident on the process for an academic poster submission, prepare a manuscript of publishable quality, and present a continuing education lecture.
Encourage attendance at a national optometric conference and participate in weekly didactic activities.
Typical Weekly Schedule
Normal duty hours are 7:30am – 4:00pm Monday through Friday although clinical patient care activities may conclude after 4:00pm on some days. There are no on-call, evening or weekend assignments.
 
Monday
Tuesday
Wednesday
Thursday
Friday
AM
 Patient Care
Patient Care

Patient Care

Patient Care
Patient Care
 
 
 
 
 
 
PM
Patient Care

Systemic Disease Lecture

Patient Care

Patient Care
Ocular Disease Education
Patient Care
Resident Activities
90% Direct Patient Care
Gatekeeper for all eye clinic consultations, including walk-in and urgent care cases
Large number of diabetics, macular degeneration, and glaucoma patients
Refer for ophthalmological subspecialty care

Optometry manages the majority of glaucoma patients and refers to ophthalmology for surgical intervention

Interpret auxiliary testing: visual fields, fundus photography, OCT and OCT angiography
Order systemic work-up as indicated by patient presentation
Refer to other health disciplines as indicated by patient presentation
Prescribe with a wide array of oral & topical therapeutic agents
10% Didactic Activities
Weekly education meeting on Thursday Afternoons

Ophthalmic Disease Lectures
Journal Club
Grand Rounds
Advanced Diagnostic Workshops

Regular "Systemic Disease in Eyecare" learning series on Tuesdays
Opportunity to attend a national optometric meeting (AAO or AOA)
Scholarly Activities
Professional development time
Develop a case report of publishable quality
Create a poster/paper outline and abstract to educate the resident on the process for an academic submission. Additionally, residents are highly encouraged to submit their abstract for the AAO Resident's Day or comparable venue.
Present a continuing education lecture
Lecturing Opportunities
The resident will present a continuing education lecture in the Spring.
Completion Requirements
Completion and submission of all SCCO at MBKU required paperwork to the Residency Coordinator (Dr. McKenzie) and SCCO at MBKU (Dr. Tong)

Quarterly Patient Encounter and Diagnosis Log
Quarterly Faculty Evaluations
Quarterly Program Evaluations
Quarterly Resident Referral Log
Quarterly Resident Activity Log
Quarterly Resident Reading Log
End of the Year Evaluation of Program
Certification of Completion of Residency Requirements
Resident Contact Address after Completion

Minimum of 1200 patient encounters
Be present for Resident Orientation, which may occur prior to July 1 start date
Be present for complete academic year from July 1 through June 30 for the entire tour of duty except when on approved vacation, sick or authorized absence days
Provide quality, compassionate, ethical care to all veterans
Participate in the Optometry Education Meetings
Attend Medicine-based Education Lectures
Develop a poster/paper outline and abstract to educate the resident on the process for an academic poster submission
Prepare a manuscript of publishable quality
Prepare and present a continuing education lecture
Application Prerequisites
Candidates must currently possess an OD degree from an Accreditation Council on Optometric Education (ACOE) accredited institution or will have attained an OD degree, from said institution, prior to matriculation.
COVID-19 vaccination.
By congressional law, candidates must be citizens of the United States.
Selection Process
The residency coordinator decides which candidates to rank for the match and determines the sequential ranking of those candidates based upon the application materials, interview, and letters of recommendation. Final candidate selections are reviewed by the Chief of Optometry and the list is submitted to ORMatch by the Residency Coordinator. ORMatch contacts the Residency Coordinator with the results of the match, who informs the Residency Director at SCCO/MBKU of the results. Note: all residency applicants will be evaluated without regard to sex, sexual orientation, race, color, religion, creed, age, national origin, disability, or any other applicable legally protected status.
Optometry residents are appointed as temporary employees of the Department of Veterans Affairs. As such, they are subject to laws, policies, and guidelines posted for VA staff members.  There are infrequent times in which this guidance can change during a training year which may create new requirements or responsibilities.  If employment requirements change during the course of a training year, the residents will be notified of the change and impact as soon as possible.
The VA is a Drug Free Workplace, which applies to any substance that may be legalized in some states but are not federally legalized. Optometry residents are subject to random drug testing.
Stipend
$44,517 – determined by VA central office, not contingent upon productivity.
Benefits
| | |
| --- | --- |
| Health | The resident is offered health insurance and life insurance options (premiums vary depending on type of coverage selected). |
| Holidays | There are 11 Federal holidays – New Year's Day, MLK Day, President's Day, Memorial Day, Juneteenth, July 4th, Labor Day, Columbus Day, Veterans Day, Thanksgiving, Christmas |
| Educational Travel | The resident is provided up to three days authorized absence to attend one national meeting: American Academy of Optometry or American Optometric Association. |
| Vacation | The resident accrues annual leave at the rate of 4 hours per 2-week pay period for a total of 13 days per year. Unused annual leave is reimbursed at the conclusion of the year. |
| Liability | Professional liability is covered by the VA under the Federal Tort System. |
| Information Resources | There is a small library of books located within the eye clinic. The resident also has access to a vast number of electronic resources through the VA Medical and the SCCO Libraries. |
Housing
There is no housing provided.
Local Activities and Attractions
Population: 45,000
Climate: temperate four seasons in the high desert
Historic Fort Huachuca, home of Army Military Intelligence
Outdoor activities: hiking, biking, fishing at Patagonia Lake or Parker Canyon Lake, bird watching, amateur star-gazing
Nearby wineries
Area attractions: Tombstone, Bisbee, Ghost Towns, Chiricahua National Monument, Kartchner Caverns
75 miles southeast of Tucson: numerous top-rated resorts, spas & golf courses; Arizona-Sonora Desert Museum; Pima Air & Space Museum; Tucson Botanical Gardens; Arizona Opera & Theater Company; Biosphere; Saguaro National Park; Kitt Peak Observatory; Accenture Match Play World Golf Championship; Tucson Gem & Mineral Show
For more information: www.visitsierravista.com
Contact Information
Mark McKenzie, OD, FAAO
Residency Coordinator
101 N. Coronado Drive, Suite A
Sierra Vista, AZ 85635
520.459.1529 x23489
Fax: 520.459.3654
mark.mckenzie@va.gov
Judy W.H. Tong, OD, FAAO
Assistant Dean of Residencies
Southern California College of Optometry at
Marshall B. Ketchum University
2575 Yorba Linda Blvd.
Fullerton, CA 92831-1699
714.463.7568
Fax: 714.992.7811
jtong@ketchum.edu